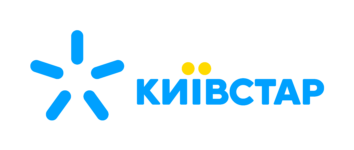 Kyivstar is a Ukrainian telecommunications company, provides communication services and data transmission based on a broad range of fixed and mobile technologies, including 3G and 4G (LTE).
Kyivstar mobile network covers all cities and towns of Ukraine, as well as more than 28 thousand rural settlements, all main national and regional highways, majority of sea and river coasts. As of the year 2018, Kyivstar is the largest mobile operator, as well as one of the largest internet providers of broadband access ("Home Internet" service) in Ukraine.
JSC "Kyivstar" was founded and registered in Ukraine in 1994, provides mobile communications services from 1997. The company's head office is located in Kyiv. Kyivstar is a member of the International Telecom Group VEON (Netherlands). VEON shares are in free float on the stock exchanges of NASDAQ, New York and Euronext, Amsterdam.
Kyivstar has been supporting KSE for a couple of years. It provided a multiple partnership and sponsorship. Kyivstar was a sponsor of the first KSE Impact Dinner 2017 at which Roger Myerson, Nobel Prize Laureate, was a key-note. The company was a partner of the second intake of the Centre for Excellence in Economic Journalism.
#ksecircle