KSE was awarded with CEEMAN International Quality Assurance Accreditation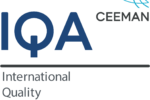 CEEMAN IQA proves that the management, faculty, and staff of KSE are committed to continuous improvement in all aspects of education and services and signifies that KSE is recognized as a leading provider of education in the market and enjoys a strong reputation among employers.
CEEMAN certification means that KSE's graduates are equipped with necessary knowledge, skills, and competencies to become successful in their careers and further advancement. It shows that they acquired the intellectual and social capital to qualify for the leading organizational and corporate positions. They have a solid basis in functional management as well as in integrative capabilities required for career advancement.
Students who were involved into the educational process during the time the School was going through the accreditation process can get the statement "KSE is CEEMAN accredited" on their diplomas.
This type of recognition will strengthen KSE's competitive advantage and positioning on the national and international level and KSE will be able to increase its cooperation with reputable academic partners and businesses.