Yermak-McFaul International Group presents a new Action Plan to strengthen sanctions against Russia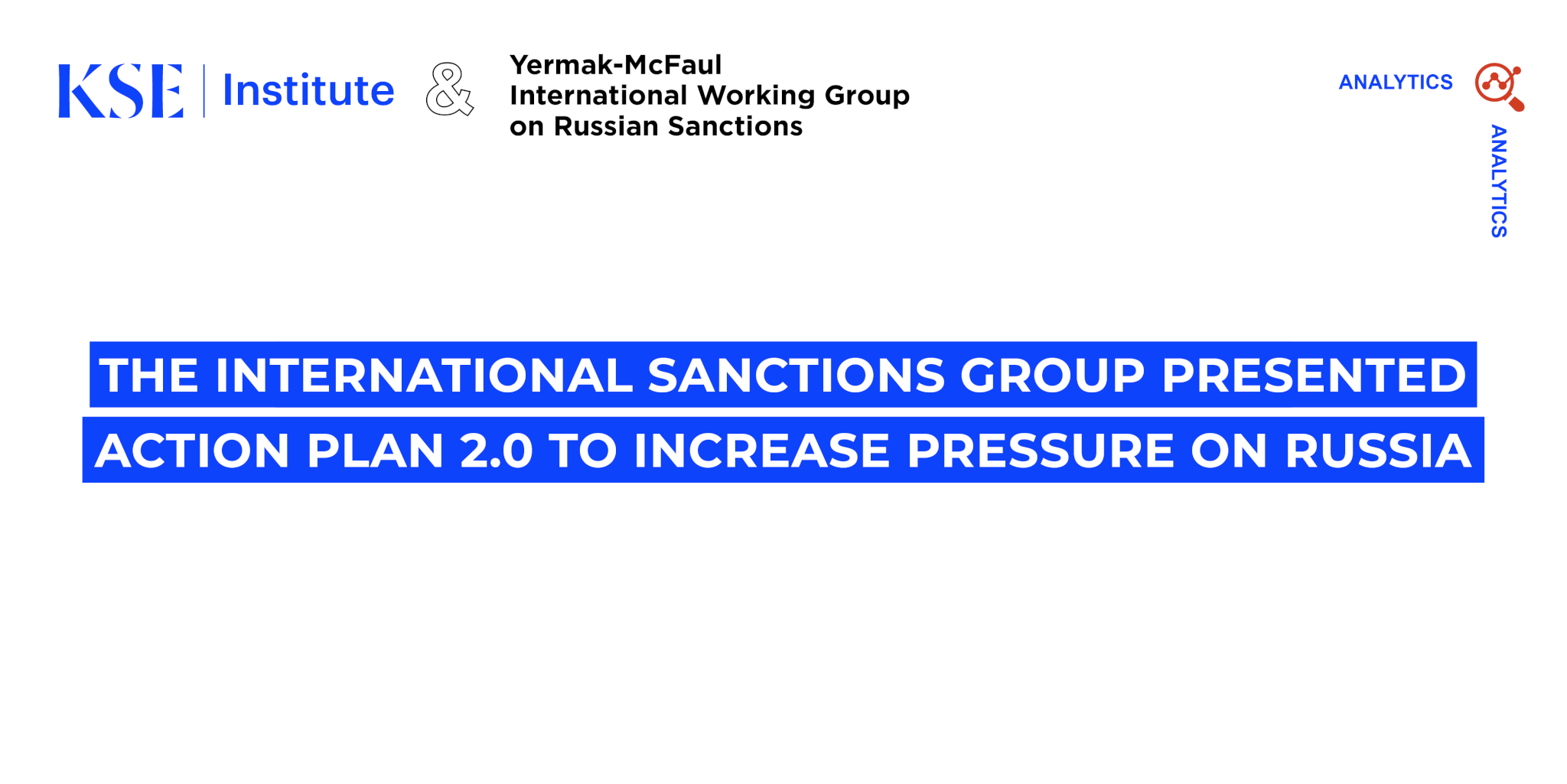 The International Working Group on Russian Sanctions has presented Action Plan 2.0 to strengthen sanctions against the Russian Federation. The document offers new approaches and experience in implementing sanctions to governments, private companies, and international organizations. KSE Institute experts actively participated in the development of the document. 
Last year's developments of the International Group formed the basis for more than 70% of the sanctions imposed by the US, EU, UK, and other countries against the Russian Federation. The working group's efforts have contributed to the imposition of an embargo on Russian oil and petroleum products, the establishment of price caps for them, and the introduction of blocking sanctions against the 20 largest Russian banks. Additionally, the Russian Federation has been deprived of all the rights of the FATF, and personal sanctions have been imposed on thousands of Russian citizens. 
Action Plan 2.0 proposes to further increase the sanctions pressure on the aggressor. The document covers 12 areas, including the restriction of the military sector, energy, trade and finance, the confiscation of Russian assets, the recognition of the Russian Federation as a state sponsor of terrorism, and the strengthening of sanctions' control and coordination. Each category of the document contains an overview of existing restrictions and new measures. 
In the energy sector, experts propose limiting the price cap for Russian oil to $45 per barrel, obligating oil carriers to report publicly on their activities, and introducing a tax on oil and gas imports from the Russian Federation. Furthermore, gas delivered to the EU from Russia should only go through the Ukrainian GTS. Experts also call for imposing full sanctions against Gazprombank and all Russian oil and gas companies, as well as to impose restrictions on Rosatom and its leadership for illegal activities in Ukraine. 
To increase pressure on the Russian financial sector, the proposal is to introduce full sanctions against the 10 largest banks in the Russian Federation and set a deadline for foreign banks to exit the Russian market. Furthermore, new investments should be banned, and existing projects should be frozen. 
The proposals for military sanctions include strengthening controls on the export of military and dual-use goods and expanding the list of dual-use goods, including tablets and laptops, which are actively used by the enemy on the battlefield. 
To strengthen control and exchange of information, the Action Plan proposes creating a single exhaustive list of sanctioned legal entities and individuals and establishing an international institution to monitor the implementation of sanctions in various jurisdictions. Additionally, experts call on all participants in the sanctions' coalition to criminalize sanctions violations against the Russian Federation in their respective countries. 
For more details about the new Action Plan 2.0 by the Yermak-McFaul Sanctions Group, please follow the link