The Prime Minister of the Netherlands visited the Kyiv School of Economics and met with students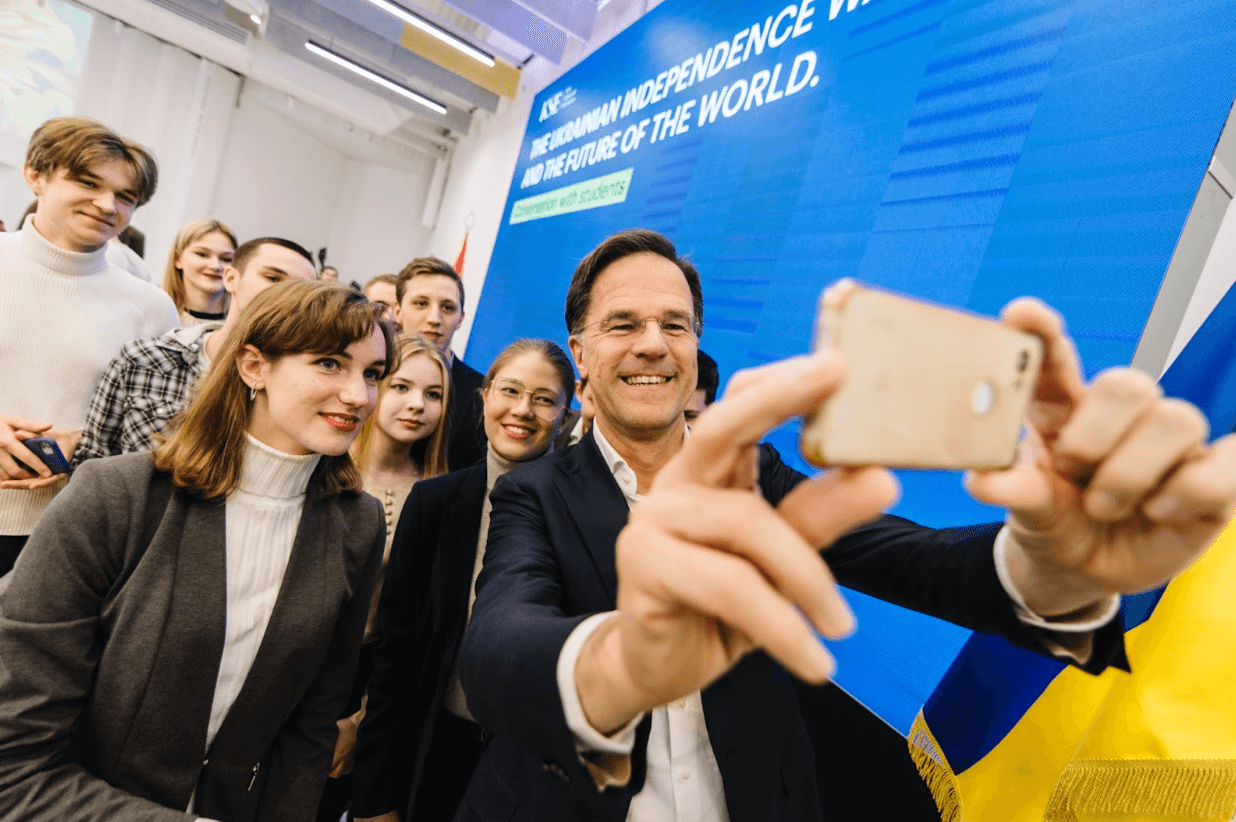 Photo: Prime Minister of the Netherlands Mark Rutte together with students of the Kyiv School of Economics take a joint photo, February 17, 2023. Photo credits: Kateryna Lashchykova
On February 17, the Prime Minister of the Netherlands, Mark Rutte, visited the Kyiv School of Economics, where he talked with students for more than an hour about war crimes, reparations, military aid, reconstruction of war-torn cities, and the importance of education in post-war reconstruction.
Prime Minister Rutte visited KSE after meeting with President Volodymyr Zelensky. At the same time, the Minister of Internal Affairs Ihor Klymenko and Lisje Schreinemacher Liesje Schreinemacher, Minister for Foreign Trade and Development Cooperation of the Netherlands met at the KSE, where they discussed strategic issues of partnership between the two countries.
Mr. Rutte began his visit by commemorating the fallen KSE graduates who defended Ukraine with weapons during the full-scale invasion and flight MH17, which was shot down by Russian forces in 2014.
Prime Minister Rutte clearly declared his support for Ukraine, and called its victory over the aggressor country undoubted.
Mr. Rutte expressed his admiration for the courage of the Ukrainian people and the energy that Ukrainians are putting in to gain NATO membership, even during war: "The military, the government, the population as a whole, you are incredible, courageous and a great example for the rest of the world."
The Prime Minister also highlighted the strong support of the Dutch people, saying: "This is our fight because it is about values and also about collective security for the entire European continent."
Kyiv School of Economics is sincerely grateful for the honor of hosting Mr. Prime Minister Mark Rutte and Mr. Deputy Ambassador Esselien van Eerten Ambassador of the Netherlands to Ukraine Jennes de Mol and thanks the Embassy of the Netherlands and everyone involved for organizing the meeting.