The October Issue of the Ukrainian Recovery Digest released by KSE Institute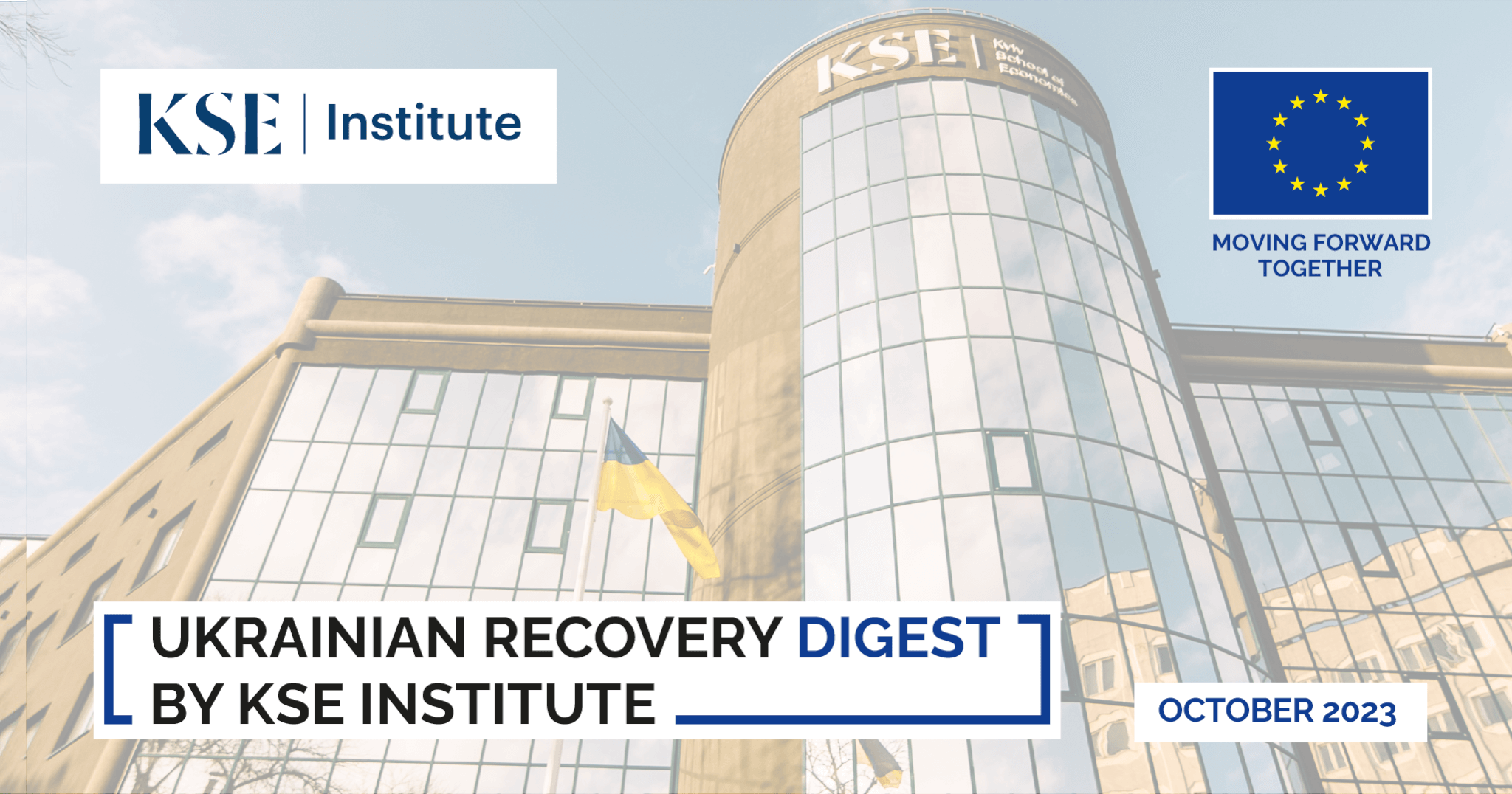 KSE Institute has introduced the latest edition of the Ukrainian Recovery Digest for October 2023. The digest focuses on issues such as Ukraine's budget analysis, projections of Ukraine food balances, changes on Ukraine's farmland market, and perspectives on Ukrainian M&A market.
Central Budget. In September, Ukraine's central budget reported a USD 3.6 billion deficit (excluding a USD 1.25 billion US grant). This deficit was covered through external loans and local bond issuances. Notably, the total funding needs for the month came to USD 5.26 billion, closely aligning with the IMF's recommended monthly fiscal target of USD 5.0 billion. Total expenditures for September amounted to about USD 6.28 billion, reflecting a 2% YoY decrease. A positive trend is the increase in total tax and non-tax revenues, reaching USD 2.68 billion and marking a 17% YoY increase. This was attributed to higher earnings from military personnel and increased business activity. 
Projections of Ukraine food balances. A joint study by KSE and the World Food Programme explores the potential consequences of abandoning the Black Sea grain initiative on Ukraine's food balances, analyzing production and consumption scenarios over an eight-year period. Using the AGMEMOD dynamic model, the study foresees challenges in wheat production under certain scenarios, while corn and sunflower oil production may exceed local demand. Grains like buckwheat are expected to meet local demand through market mechanisms, and products like potatoes, sugar, dairy, meat, and poultry are less vulnerable to export blockages. However, all are subject to potential disruptions, as demonstrated by the destruction of the Kakhovka dam.
Changes on Ukraine's farmland market.
• Legislation changes. In 2023, Ukraine enacted land legislation changes, adopting the State Anticorruption program for 2023-2024 and reforming the use of state-owned farmlands. Priorities include canceling free-of-charge privatization, addressing farmland consolidation, and lifting the moratorium on farmlands.
• Role of the Partial Credit Guarantee Fund. The PCGF backs small agricultural producers with land banks of up to 500 hectares, aiming to provide 50% guarantees. In conjunction with the "5-7-9" accessible loan program, around 6.5-11 thousand smaller producers could benefit from the PCGF.
• Farmland buyers. In 2021, Ukraine's farmland market opened in two phases. Initially, only private individuals could buy land, with a limit of 100 hectares per person. From January 1, 2024, legal entities can join, with a cap of 10,000 hectares per buyer.
Perspectives on Ukrainian M&A market. From 2000 to 2014, Ukrainian M&A activity peaked at 464 deals annually, totaling EUR 15.3 bn. However, the market hit a low in 2022 during the invasion, with only 39 deals totalling EUR 46.8 m. Despite challenges, the market showed resilience, primarily involving domestic transactions. Foreign investment was minimal, and average deal values dropped below the long-term average. Nevertheless, the occurrence of any deals amid the invasion highlights Ukraine's business openness.
These are the key findings that cover only a part of the digest. To subscribe to new, full issues of KSE Institute digests, please fill out the special form here: https://bit.ly/472Vu9Z.
The Digest was prepared with the support of the European Union and includes the results of research conducted by the Kyiv School of Economics, which was made possible by the support of the UK Government (UK Aid), the United States Agency for International Development (USAID), the International Renaissance Foundation and the World Bank.