The damage to Ukraine's agricultural sector and land resources in the event of a full-scale war amounted to $8.7 billion
Damage to the agricultural sector during the active phase of armed aggression since 24 February 2022 is estimated at $8.7 bn. 
According to the experts of the KSE Institute project "Russia Will Pay", the highest value of damages in the sector was caused by the destruction and damage to agricultural machinery, which is estimated at over $4.65 billion. In total, 109.6 thousand units of agricultural machinery were damaged or destroyed as a result of the war. 
The second largest category of damages in this sector is related to the destruction and theft of manufactured goods. More than 4 million tonnes of finished agricultural products were destroyed and stolen. The total value of these damages is estimated at $1.87 billion. 
The infrastructure for storing agricultural products also suffered significant damage. The total capacity of the destroyed granaries is 8.2 million tonnes of production, and the damaged granaries have a storage capacity of 3.25 million tonnes. The cost of repairing the damaged facilities is estimated at $1.33 billion.
The war started by Russia has significantly affected Luhansk, Kherson, Donetsk, Kharkiv and Zaporizhia regions. These regions are also among the top 5 in terms of the number of damaged and destroyed assets.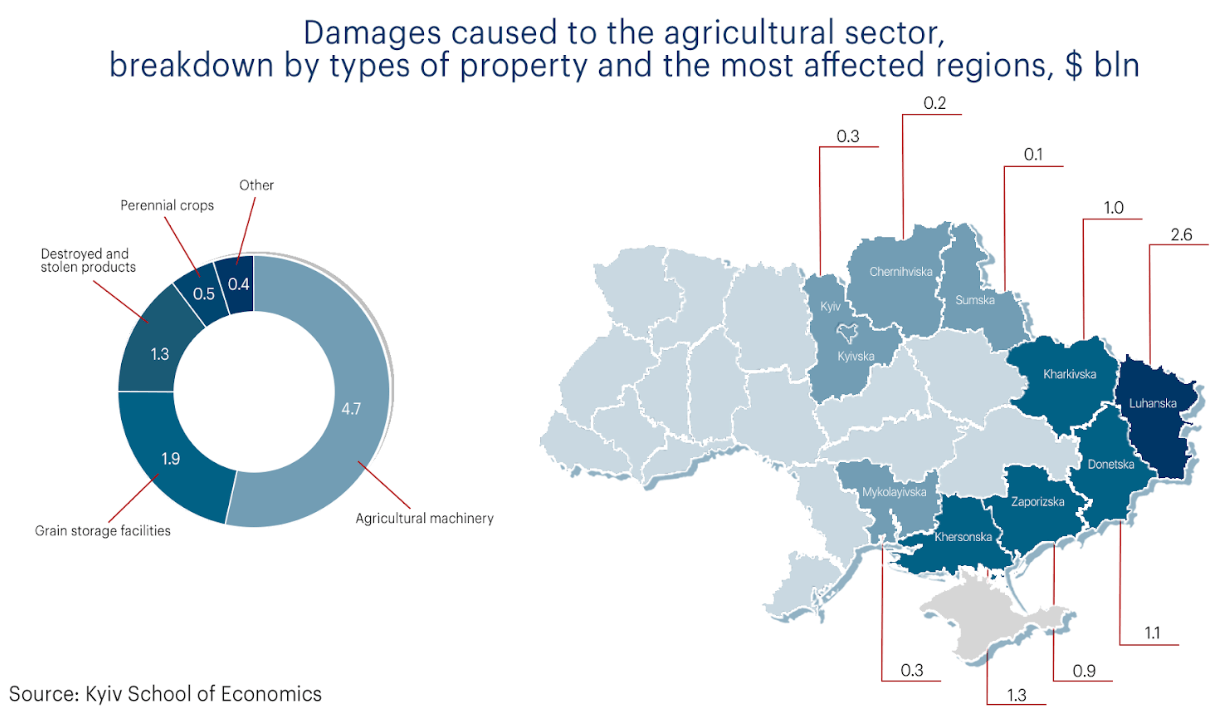 Assessment of direct damages to the agricultural sector and agricultural infrastructureincludes the following damages:
• agricultural machinery, elevators and other grain storage facilities 
• stockbreeding, death and slaughter of cattle due to the inability of alimentation,
• producers of perennial crops due to damage to plantations, 
• beekeeping, 
• factors of production and finished goods due to damage and theft.
Estimates of damages to the land resources will be assessed separately.
The above damages are estimated using indirect methods in combination with the national and regional statistics and data from surveys of agricultural producers carried out in 2022.
Detailed data on destruction and losses caused to the Ukrainian agricultural sector were collected by the Kyiv School of Economics (KSE Institute) as part of the project to develop independent methodologies for the analytical assessment of infrastructure damage and economic losses caused by Russia's aggression, implemented by the KSE Institute in cooperation with the USAID  Economic Resilience Activity. The contents of this publication are the sole responsibility of KSE Institute and do not necessarily reflect the views of the United States Agency for International Development or the United States Government.