The Center for advancement in restoration and modernization capacity of Ukraine launched at the initiative of Cabinet of ministers and Kyiv school of Economics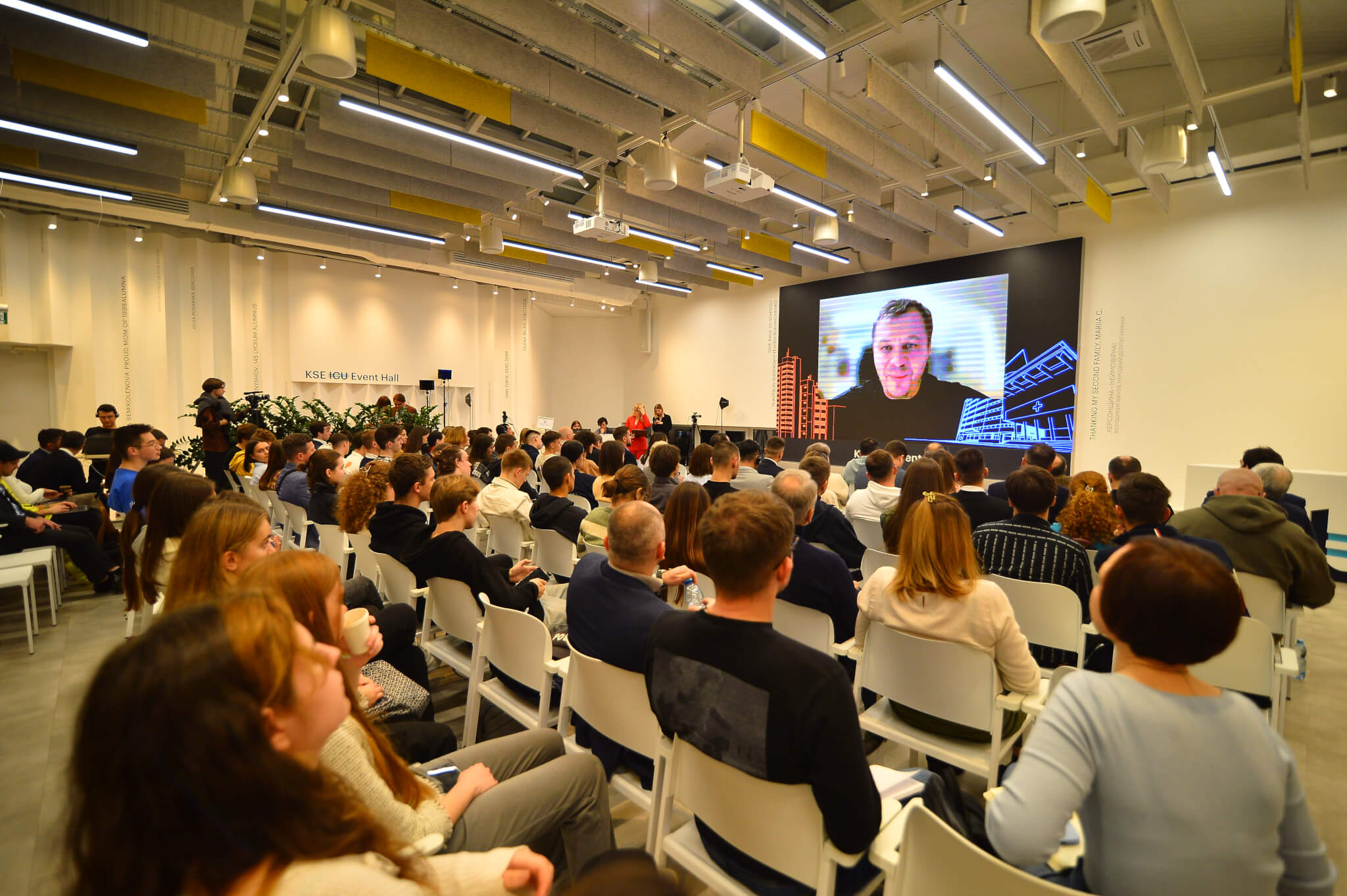 On November 9th, Center for Advancement in Restoration and Modernization Capacity (CARMC) was launched in Kyiv. CARMC was established on the initiative of the Cabinet of Ministers of Ukraine and Kyiv School of Economics with support from the World Bank Group. The main aim of CARMC is to bolster Ukraine's recovery capacity by improving the knowledge and skills of professionals engaged in the recovery process and cultivating a professional network and community. 
The event was attended by Denys Shmyhal, the Prime Minister of Ukraine; Oleksandr Kubrakov, the Deputy Prime Minister for Restoration of Ukraine – Minister for Communities, Territories, and Infrastructure Development of Ukraine; Gevorg Sargsyan, the Head of the World Bank Country Office in Ukraine; Antonella Bassani, the Vice President of the Europe and Central Asia Region at the World Bank; Tymofiy Mylovanov, the KSE President; Mustafa Nayyem, State Infrastructure Restoration and Development Agency of Ukraine; Tymofii Brick, the KSE Rector; government officials; and representatives of international financial institutions.
In the opening remarks, Prime Minister of Ukraine Denys Shmyhal said, 'Reconstruction is one of our main tasks and priorities. Successful recovery entails five components: strategy, resources, implementation infrastructure, robust project teams, and the formation of a recovery coalition consisting of international partners, businesses, and civil society. 
We extend our gratitude to all our partners, including the World Bank, who are aiding us on this path. I am also thankful to the Kyiv School of Economics for their role in coordinating this important initiative'.
The primary objective of CARMC is to strengthen the capacity of central and local authorities for effective management of recovery projects by applying innovative, transparent, and efficient approaches in close cooperation with international financial institutions. Over three years, the CARMC platform is projected to train 6,000 recovery specialists.
CARMC will investigate nationwide recovery processes, as well as the knowledge and skills required by different groups and levels of specialists. The shortage of these skills hampers the fast and high-quality implementation of recovery projects. Moreover, CARMC will act as a universal platform for sharing knowledge, practices, and experiences, which will enhance the efficiency of interregional and inter-municipal collaboration in executing recovery projects.
'The main investment is not just money, but rather people and their skills. The absence of trained specialists can result in the inefficient utilization of funds and the postponement of the reconstruction process. Overcoming the economic consequences of the war and achieving effective reconstruction is only possible through collaborative efforts involving the Government, local authorities, foreign partners, donors, and businesses', stated Vice Prime Minister for Reconstruction of Ukraine, Oleksandr Kubrakov", said Oleksandr Kubrakov, Deputy Prime Minister for Restoration of Ukraine – Minister for Communities, Territories, and Infrastructure Development of Ukraine. 
Tymofiy Mylovanov, the President of KSE, highlighted that the reconstruction is a unique chance to reconstruct the Ukrainian economy and boost its competitiveness in the international market.
'Our task is not just to rebuild what has been destroyed, but also to ensure the transition to a new technological system and create new markets. In order to achieve this, we need reconstruction providers with up-to-date knowledge in macroeconomics, management, finance, logistics, cybernetics, and social interaction. CARMC will work towards increasing the capacity of civil servants and local government officials to implement reconstruction projects, foster a new competitive economy, enhance public services, and create a comfortable environment', Mylovanov said. 
The first group of 100 top civil servants will be trained soon. Additionally, there are plans to launch a Data room, a sectoral knowledge base in the field of reconstruction.
'As part of the reconstruction program, the country has faced numerous challenges – a shortage of necessary reconstruction specialists, a lack of a universal knowledge base for developing professional skills, and insufficient capacity to work with international financial organizations. CARMC aims to overcome these challenges – our goal is to train 6,000 professionals in reconstruction project management who will become the backbone of the recovery community and share their experience and knowledge with other professionals. Together, through partnerships with state institutions such as the Cabinet of Ministers and the Ministry for Restoration of Ukraine, and with the support of donors, particularly the World Bank Group, we must empower specialists who will directly execute reconstruction projects on the ground', said Tymofii Brik, Rector of the Kyiv School of Economics.
According to Kyiv School of Economics, as of September 1, 2023, the total amount of infrastructure damage caused to Ukraine by the Russian invasion amounted to $151.2 bln.