New Sanctions Group Paper: Energy Sanctions Curb Russia's Ability to Finance War on Ukraine, but Further Measures Proposed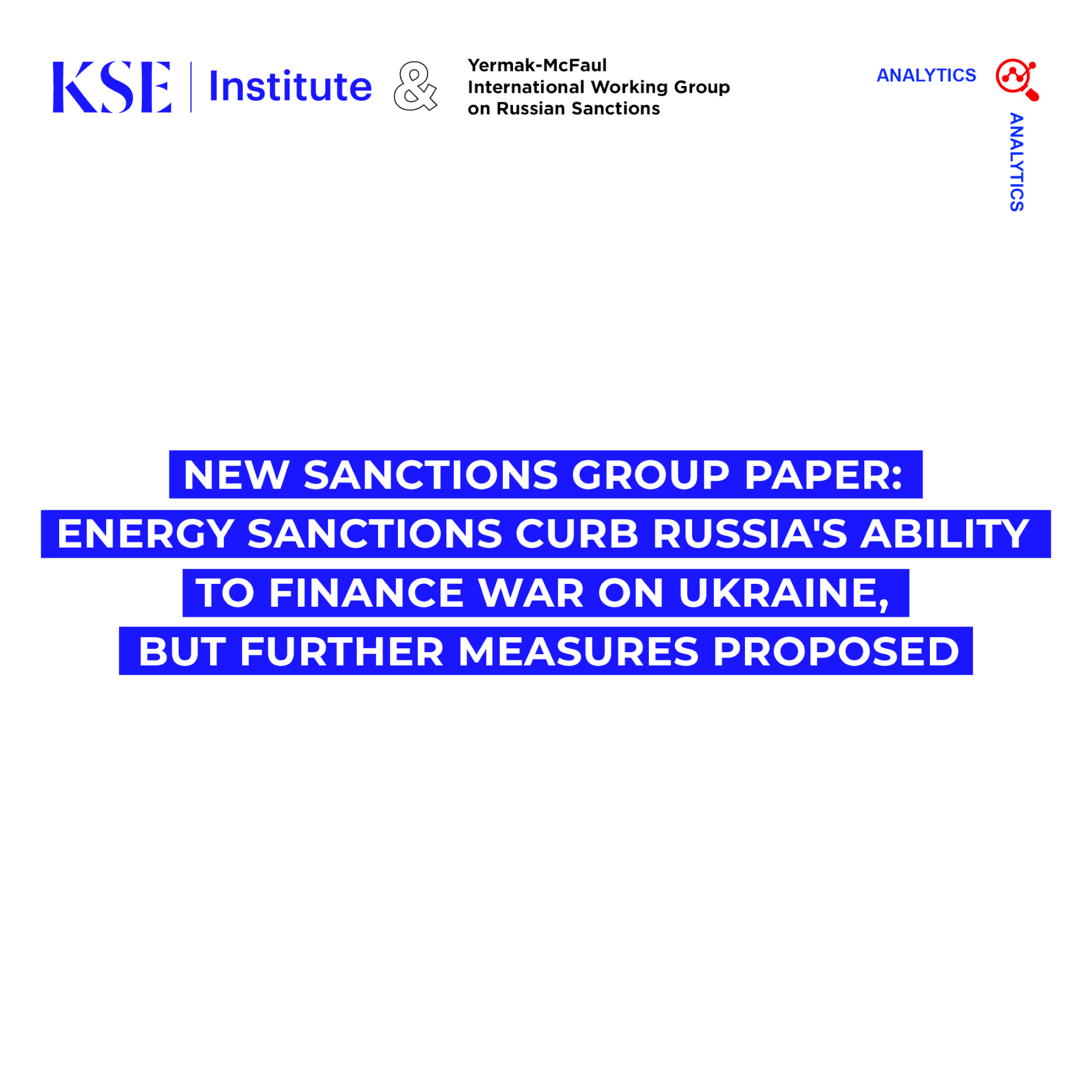 The International Working Group on Russian Sanctions has released a paper "Using Energy Sanctions to Shorten the War." In it, the experts point out the critical role of energy sanctions, which have proven to be a potent tool, and highlight that it is essential to ensure their effectiveness. Russia's ability to find ways to circumvent them means that steps need to be taken to improve the current energy sanction regime.
In response to Russia's full-scale invasion of Ukraine, sanctions on Russian energy exports were imposed – and have significantly impacted oil and gas revenues, amounting to an estimated loss of $140-170 billion since February 2022. Sanctions have reduced Russian oil sales to Ukraine's allies, led to an 80% decrease in pipeline gas sales to Europe, and caused Russian oil sales to other nations to be heavily discounted.
As a result, Russia's trade surplus has declined by two-thirds, and oil and gas budget revenues have fallen by 38% this year. This loss in energy revenues, coupled with ongoing capital outflows and increasing war costs, has left the Russian economy vulnerable. As a result of sharply lower energy exports, the ruble has weakened consistently since last fall, prompting disagreements among policymakers and a shift to tighter monetary policy by the Central Bank of Russia.
While energy sanctions have been effective, Russia is finding ways to circumvent them, including through the build-up of a sanctions-proof fleet of tankers. With Russian oil selling above the price cap, on average, and Russia maintaining or increasing pipeline and LNG gas sales to Europe, Moscow aims to recapture lost energy revenues.
To support Ukraine and maintain pressure on Russia, the following measures are proposed:
1. Improved Sanctions Implementation. The paper points out the need to strengthen compliance with the G7/EU price caps by allowing only approved traders to issue price attestations for Russian oil cargoes. The authors urge to require tankers transiting European territorial waters to verify that they hold adequate oil spill insurance. An EU embargo on Russian LNG, and mandating Russian pipeline gas to flow solely via Ukraine are also being proposed.
2. Additional Measures to Shorten the War. The experts advocate for a reduction in the price cap on crude oil to $30/bbl – and similar reductions in the caps on petroleum products – and imposing sanctions on Russian oil companies, Gazprombank, their subsidiaries, and their boards and management. Encouraging all Western energy companies to exit Russia and cease serving Russian clients is also of critical importance.
The proposed measures aim to enhance the credibility of existing policies and can potentially even stimulate additional supply at a lower price. Furthermore, these steps align with a forward-leaning policy to enforce current measures, constrain Russian oil revenues, and accelerate peace efforts by limiting Russia's ability to finance the war.
The full text of the paper "Using Energy Sanctions to Shorten the War" by the experts of the International Working Group on Russian Sanctions is available via link: https://t.ly/3yOCr