KSE Institute's Russia Chartbook: "Sanctions Impact Exports and the Ruble, but Continued Effectiveness Needs to Be Ensured"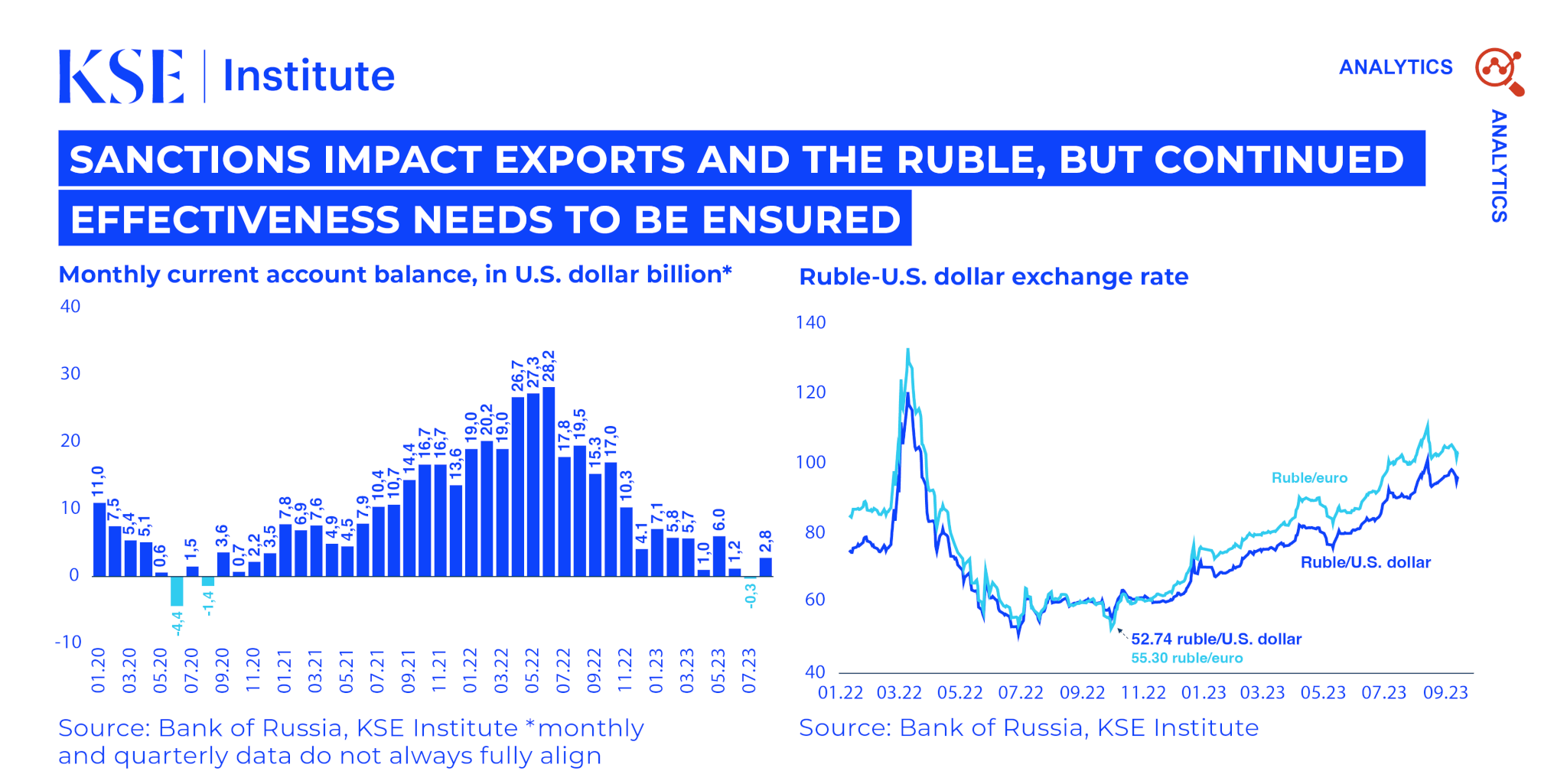 KSE Institute released its newest Russia Chartbook, "Sanctions Impact Exports and the Ruble — but Continued Effectiveness Needs to Be Ensured", providing a detailed analysis of the deteriorating state of Russia's external economic environment. The report highlights that while sanctions have had a considerable impact on the Russian economy, more rigorous measures are required to maintain their effectiveness.
The Russian economy has been severely impacted by international sanctions, with the trade balance declining by 68% from January to August compared to the same period last year. This decline led to a staggering 86% drop in the overall current account surplus. For the first time since the onset of the COVID-19 pandemic, Russia's current account slipped into deficit in July. The ruble continues its downward trend despite recent rate hikes by the Central Bank of Russia, closely approaching the critical marks of ₽100/$ and ₽110/€.
The role of sanctions has been significant in this deterioration. KSE Institute estimates suggest that Russia has lost approximately $100 billion in oil export revenues since initiating its full-scale invasion of Ukraine. Additionally, its failed strategy to manipulate natural gas flows to Europe has cost the country around $40 billion.
However, there are worrying signs that the effectiveness of sanctions may be wearing off. For example, discounts on Russian oil — the primary mechanism through which sanctions have impacted Russia — have narrowed sharply in recent months. As a result, it is estimated that higher oil prices – including due to rising global prices – could provide Russia with additional export earnings of $17 billion in 2023 and $33 billion in 2024.
Russia has experienced some fiscal improvement. The weaker ruble has inflated the local currency value of key income streams like mineral extraction taxes and energy export duties. Alongside a strong recovery in non-oil and gas revenues and controlled expenditures, this has reduced Russia's total deficit to approximately 2.4 trillion rubles for January-August. While Russia is likely to miss its full-year fiscal target, the shortfall won't be as large as initially expected, making financing pressures manageable in the short term.
Therefore, as the new Russia Chartbook underscores, while sanctions are having a significant impact, their sustained effectiveness is not guaranteed. We emphasize the urgent need for Ukraine's allies to strengthen their sanctions strategy to effectively contribute to the end of the war.
Consequently, the KSE Institute calls on Ukraine's allies to intensify their sanctions strategy. This includes implementing measures like lowering price caps, conducting regular audits, and imposing stricter documentation requirements, which could substantially impact Russia's export earnings and fiscal revenues. These are crucial steps to reduce Russia's war capabilities and save lives.