KSE held an official presentation of the new Master's Program: Master's in Digital Transformation and Business Analytics
"I have had the idea and concept of this program a long time, and, together with the Kyiv School of Economics, we have started to implement the idea. We have gathered the best lecturers who have practical experience in the field of the consulting business, IT outsourcing business in Ukraine, and data intelligence," Victoriya Tsytsak, Candidate of Economic Sciences, Program Director, said.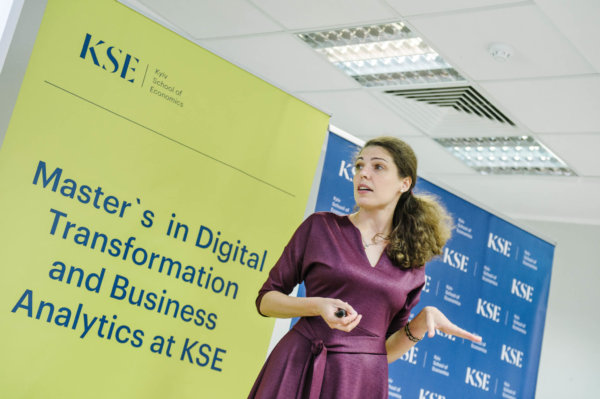 The event was held in Kyiv and gathered many guests: representatives of various businesses, the government sector, and public sector. The invited guests shared the transformation stories in their companies: Dmytro Shymkiv, Сhairman of the Executive Board of managing company PrJSC "Pharmaceutical Firm "Darnitsa", Ex-Deputy Head of the Presidential Administration of Ukraine, General Director of Microsoft Ukraine, and Mark Sawchuk, General Director of L'Oreal Ukraine, Professors at KSE on a part-time basis.
Dmytro Shymkiv informed about practical examples of digital transformation for the state and commercial sectors. In particular, PrJSC "Pharmaceutical Firm "Darnitsa" has implemented the SAP implementation project on the Microsoft Azure platform and is one of such first examples in Ukraine. This large-scale project helped the company to accelerate internal processes at different levels and has become one of the steps of the business to building an international company.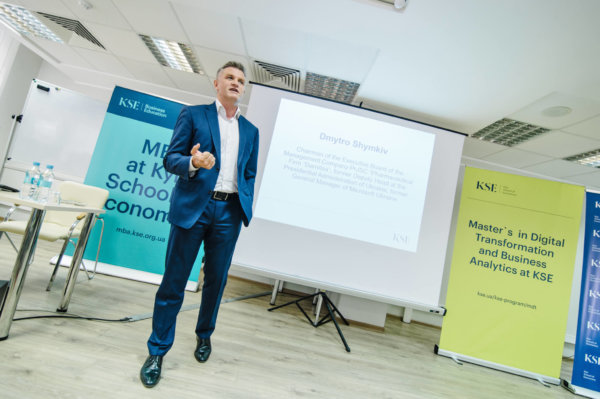 "The market lacks skilled professionals and practitioners who know how to form a competitive advantage through digitalization," Mark Sawchuk said. "What does this mean for me as an employer and General Director? I have to teach all the employees who join my company; today, educational institutions almost do not provide the skills necessary in the digital world, and the providing of such training within the company means additional cost to me. Qualitative work with practical cases and self-training can take up to three years for one employee."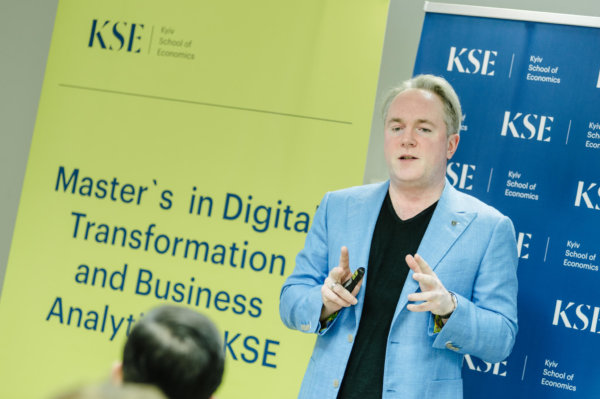 The program focuses on professionals who are eager to create and ensure changes in the digital world through the use of information technology. The program curriculum covers three main areas of the digital transformation of the business and organization:
Planning and management of digital changes: from IT strategy to implementation of IT solutions and advanced technologies.
Tools for business intelligence, artificial intelligence and machine learning for creating IT solutions
Design of IT solutions-oriented on modern trends of human-machine interaction, innovative thinking".
"In our program, we will teach how to create and implement IT solutions based on the goals of businesses and organizations, use advanced technologies and data analytics to manage complicated and complex change projects," Victoriya Tsytsak said. "For example, one of our courses is a course on blockchain, where we consider blockchain in detail as a technology, its advantages, and its practical application. The course lectures will be delivered by an architect of IT solutions on blockchain, who has practical experience in their development and implementation," Victoriya continues.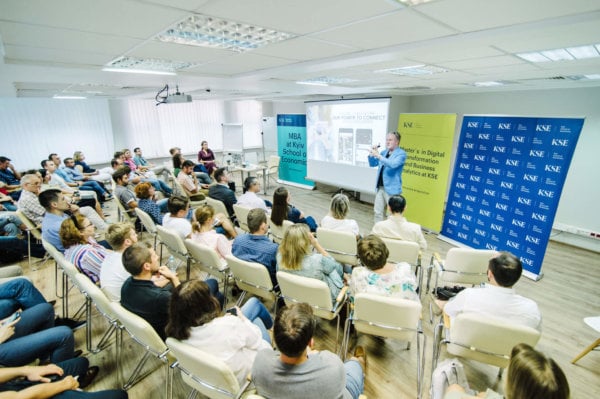 "I am very happy that in Ukraine, we finally have such program and will provide students with an opportunity to learn skills that are needed today and will be needed in the future," Mark Sawchuk said.
Program at a glance:
Target audience of the program: business professionals and technical specialists who want to learn how to manage digital transformations: from identifying opportunities to their implementation in practice
Duration of training is 1 year; courses are conducted on Friday-Saturday-Sunday once a month that allows combining training with work.
All courses are taught in English.
The group consists of 10-15 students.
Candidates can apply in the first and second rounds (2019-2020).
It is possible to take a combined Master`s Program in Digital Transformation and Business Analytics and MBA.
More detailed description of the program, courses, and teachers can be found by the link: https://kse.ua/kse-program/mdt/