In September 2023, Russian Oil Export Revenues Increased to the Highest Level since July 2022, and Export Volumes Surged – October Issue of the Russian Oil Tracker by KSE Institute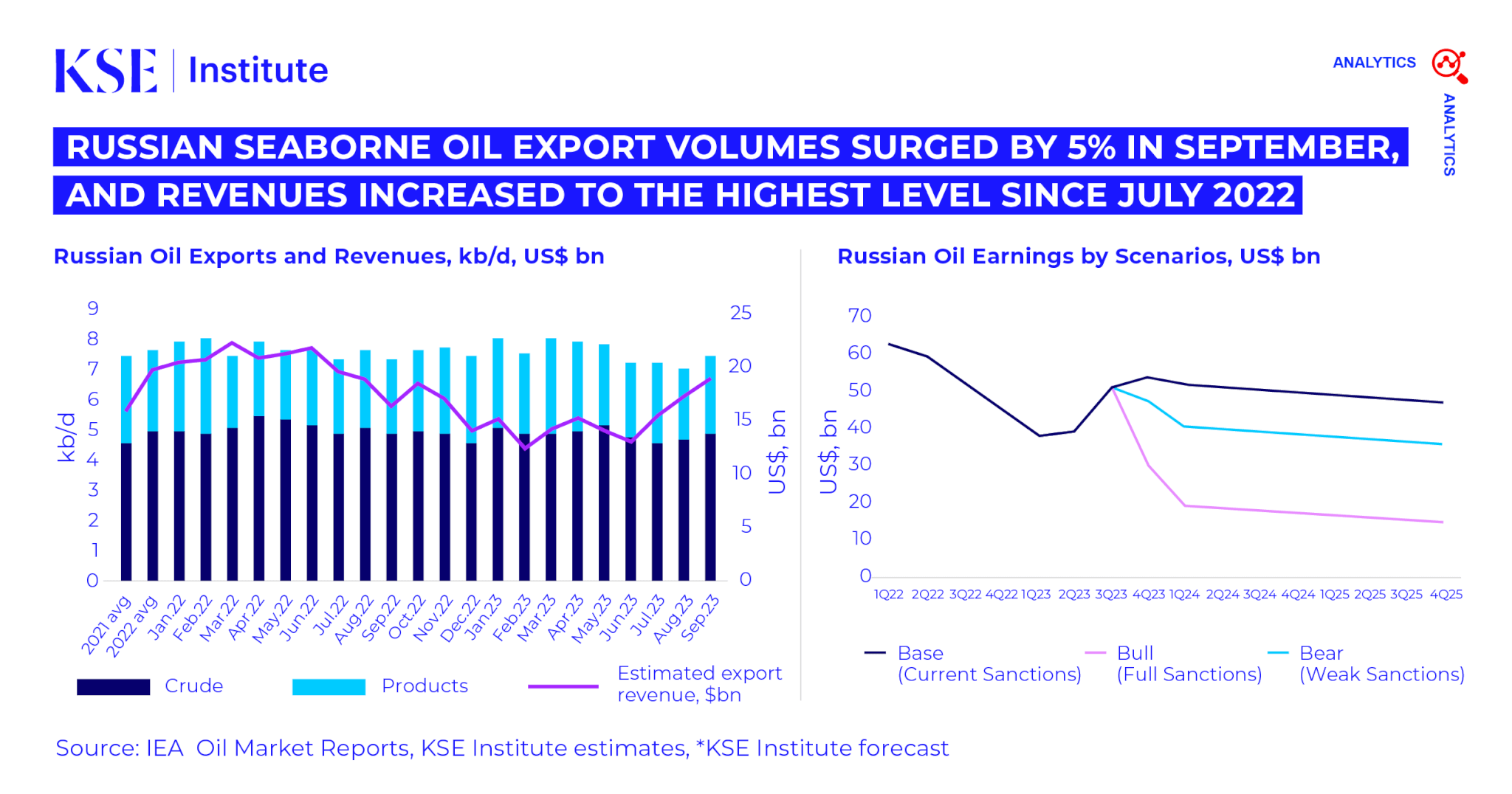 In September 2023, Russian oil export earnings increased by $1.8 bn compared to August, reaching $18.8 bn. This marked the highest revenue level since July 2022, according to the October issue of 'Russian Oil Tracker' by KSE Institute. This surge was attributed to higher prices and greater seaborne oil export volumes.
This increase occurred as Russia reduced its dependence on Western maritime services in Q3 2023. Only 42% of Russian seaborne oil exports relied on tankers with P&I Club insurance, a decrease from 54% in Q2 2023. The level of P&I Club coverage for crude oil exports also varied by port in September 2023. Specifically, 80% of crude exports from Black Sea ports, 28% from the Baltic Sea, 23% from the Arctic Ocean, and 9% of shipments from Pacific Ocean ports utilized P&I Club insurance.
Russia, however, continues to extensively utilize the shadow fleet. In September 2023, the share of Russian crude oil exports by the shadow fleet amounted to  53%, with export volumes around 2.2 mb/d of crude oil and 0.8 mb/d of oil products.
During the previous month, approximately 178 loaded shadow fleet tankers departed from Russian ports. Notably, 72% of these tankers were over 15 years old, posing environmental risks to the EU. In total, about 336 unique tankers without P&I insurance were involved in oil exports from July to September, though the actual number of shadow fleet operated by Russia  might be lower. Despite the significantly higher demand, only 208 of them returned to Russian ports for a second loading during 100 days since March.
The top five flags flown by Russian shadow fleet vessels are Panama, Liberia, Gabon, Cook, and Marshall Islands. Meanwhile, India remains the most prominent importer of Russian seaborne crude oil, with Turkey standing as the primary buyer of Russian oil products.
Interestingly, Russian oil companies obscure their ties to the shadow fleet by using a diverse range of ship managers. The KSE Institute identified 12 such managers each overseeing just one tanker, all with matching addresses in Liberia and managed by the same Information Security Manager (ISM) registered in India.
Furthermore, Russia's oil export revenues have been on the rise, influenced by a discount drop to below $14/barrel in September. These discounted prices for Russian oil and products ensure sustained demand. In September 2023, Urals FOB Baltic and Black Sea prices increased by $10/bbl, averaging $80/bbl and $81/bbl respectively, surpassing P&I insurance limits. ESPO oil, diesel, gasoil, fuel oil, and naphtha diesel were all traded above price caps, revealing gaps in EU/G7 policy enforcement.
We've delineated three potential scenarios for Russia's revenues in 2023 and 2024 based on adherence to the price cap. If the current oil price caps and sanctions status quo are maintained, Russia's revenues are projected to decrease to $177 bn in 2023 and $157 bn in 2024, down from $218 bn in 2022. If the price cap is reduced to a $50/bbl discount relative to forecasted Brent prices, revenues could plummet to $160 bn in 2023 and $74 bn in 2024. However, lax sanctions enforcement could lead to revenues of approximately $184 bn in 2023 and $202 bn in 2024.
KSE Institute recommends policy strategies such as performing attestations, bolstering certification processes, creating a list of authorized brokers/traders, imposing fines for price cap breaches, and sanctioning third-party entities aiding in violations. Importantly, there's an emphasis on mandating insurance for tankers navigating G7/EU territorial waters and prohibiting G7/EU entities from participating in the sale or financing of vessels.
Full Russian Oil Tracker for October 2023 by KSE Institute is available here.