Canada-Ukraine Free Trade Agreement: Patterns and Tendencies
In this report Trade+ experts assessed the effect of the Canada-Ukraine Free Trade Agreement (CUFTA) on trade between the signatory countries. Upon CUFTA's entry into force (August 1, 2017), Canada immediately eliminated customs duties for 26.5% of its tariff lines resulting in 98.1% of Canada's tariff lines being duty free for imports from Ukraine.Ukraine's exports to Canada have been steadily growing and expanding much faster compared to other trade partners – up by 70% in 2017, 55% in 2018 and 9.4% in 2019 (as reported by Ukraine).
In order to evaluate how CUFTA affected the bilateral trade the experts built a gravity model that accounts for international trade flows among all countries. The gravity model estimates the signing of CUFTA to have increased total Ukrainian exports to Canada by 6,5% from 2016 till 2018. At the same time, it was estimated that CUFTA did not have a significant effect on the dynamics of total Canadian exports to Ukraine during this period.
Additionally, the experts indentified promising goods for importing from Canada to Ukraine, i.e. product groups, in which Canada can expand its export to Ukraine, both in terms of strengthening existing positions and opening up new markets.
Moreover, the study identifies, which Ukrainian imports from non-FTA countries (e.g. Turkey, USA and Japan, etc.) could be substituted with Canadian products.
Read the full report prepared by Trade+, International Trade Research Center.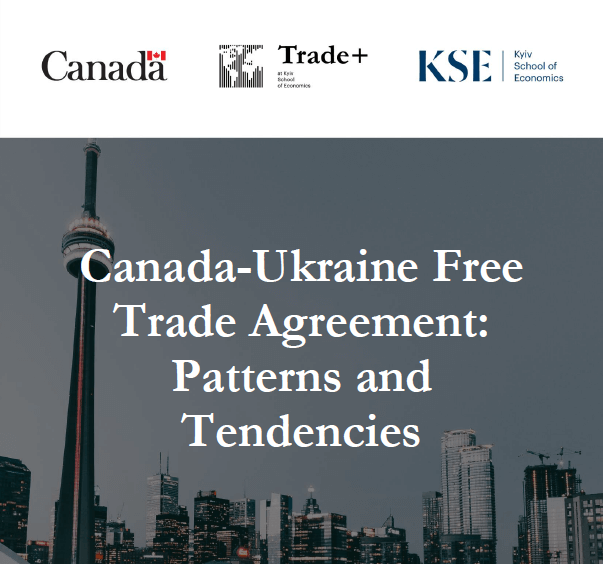 The research was conducted at the request and with the support of the Canadian Embassy in Ukraine.