2020 Winter Alumni Scholarship Campaign
KSE Alumni of all years unite to unlock quality education for the next generation!
Leaderboard*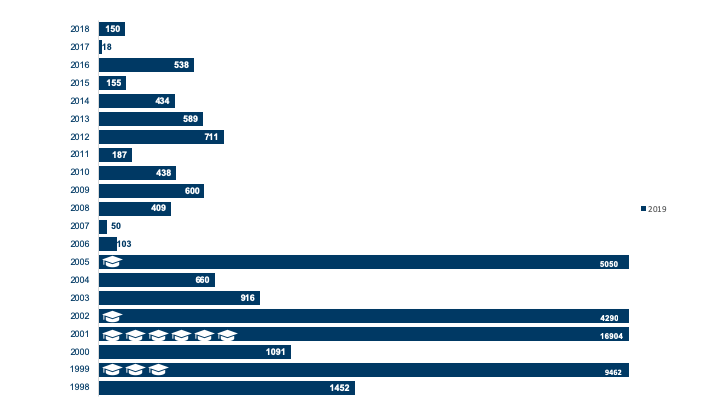 During Winter Alumni Campaign 2018/2019 US$ 44,207 were collected. This is 40% more than 2018 result of US$ 31,345.
68 Alumni donated.
Alumni donations allowed to establish 11 scholarships!
Information about scholarships established during Winter Alumni Campaign 2019/2020 will be published soon.
*For the detailed list of alumni donations, please scroll down to the bottom of the page
Background
The first class graduated from KSE in 1998. Today the KSE alumni community includes more than 917 people who live and work around the globe. This includes 753 graduates in economics, 151 in business  and 13 in public policy and governance.
On top of that, more than 3 225 people received professional certificates in non-degree programs.
The KSE has been growing. We have increased the number of students in our graduate programs from 77 in 2015 to 359 in 2019. In 2020, our ambition is to increase enrolment by 80 students to the total of 440.
KSE Alumni are the core stakeholder of the Kyiv School of Economics. We are truly grateful for your continuous support throughout the years after graduation.
Before Christmas, we launched our Winter Alumni fundraising campaign with the target of $72K. The funds raised through this campaign would cover the tuition cost for 12 students in 2020. The rest of the funds will be raised from the corporate sector in Ukraine.
This year we have a chance to fulfil our dream of moving to a KSE Campus. Buying out the building in 5-6 years requires increasing our annual fundraising target by $ 500K starting from 2020.
How It Works
Step 1. KSE Alumni make donations from Dec 2019 – March 2020
There are several ways to donate, including PayPal / LiqPay, check, and wire transfer. If you wish to join the campaign and contribute as an Alumnus / Alumna, you can do so online.
Step 2. The School receives donations and allocates them to the scholarship funds of respective graduation years
The objective is to raise 6K USD from every class.
Per every 6K collected, we will establish one named scholarship of that class.
The current campaign status is shown on Leaderboard that is updated bi-weekly.
Step 3. Once the campaign is closed, we will announce the results
The KSE will recognize every graduation year that raises a Named Scholarship:
The year will be displayed at the donor's wall on the KSE premises and on the financial aid page of the KSE admission site
The year will be able to impose selection criteria and participate in the selection process
Prospective students will be able to apply for that scholarship
A mentorship program will be launched to facilitate relationships between students who receive scholarships and donors
If some of the classes do not reach the target of 6K, their donations will be combined into the general KSE Alumni Scholarship.
We are thankful to the Alumni who have made their contributions!
Alumni 1998
Anonymous

amount not disclosed

Sergiy Pivnenko

amount not disclosed

Vitaly Nosov

amount not disclosed
Alumni 1999
Volodymyr Lugovskyy

120

Liliana Stern

500

Anonymous

amount not disclosed

Alina Kudina-Lundstrom

200

Viktor Goloven

179,86

Pavlo Sugolov

500

Anonymous

amount not disclosed

Yadviga Semikolenova

1000

Serhiy Peredriy PhD

500

Mr. Tymofiy Mylovanov PhD

amount not disclosed

Hanna Vakhitova

100

Volodymyr Vakhitov

300

Sergiy Peredriy

51,49

Sergiy Peredriy

50

Oleksii and Maryna Romanko

amount not disclosed

Sergiy Peredriy

50
Alumni 2000
Elena Besedina

359,71

Olga Pogarska

359,71

Anonymous

amount not disclosed

Iryna Alekseychyk

300
Alumni 2001
Tetyana Shvydko

500

Sergey Alekseychik

300

Artem Boichenko

amount not disclosed

Galyna and Yegor Grygorenko

10000

Yuriy Gorodnichenko

5000
Alumni 2002
Aliaksandr Amialchuk

200

Anonymous

amount not disclosed

Olena Bilan

1500

Dmytro Sologoub

1500
Alumni 2003
Andrii Oliinyk

35,97

Kateryna Bornukova (Chekalyuk)

200

Vitaliy Vavryshchuk

179,86

Kirill Piskounov amount not disclosed
Alumni 2004
Kateryna Onishchenko

200

Yulia Tereshchenko

359,71

Olena Ivus

amount not disclosed
Alumni 2005
Iryna Topolyan

50

Volodymyr Tymochko

amount not disclosed
Alumni 2006
Alumni 2007
Anonymous

amount not disclosed
Alumni 2008
Anonymous

amount not disclosed

Roman Semko

185,87

Alla Kobylianska

198,34
Alumni 2009
Yana Ponomarova

300

Valeriya Shul'gat

amount not disclosed

Alumni 2010
Sergii Golovko

300

Anton Artamonov

107,91

Vadym Trembovetskyi

30
Alumni 2011
Kateryna Ovsiannykova

187,35
Alumni 2012
Mariia Ostapchuk

300

Amet Seitibraimov

amount not disclosed

Mariia Ostapchuk

300
Alumni 2013
Andriy Starchenko

50

Anonymous

amount not disclosed

Mariia Karashchuk

amount not disclosed

Violeta Skrypnykova

amount not disclosed

Anonymous

amount not disclosed
Alumni 2014
Dmytro Ilin

250

Anton Grui

184,09
Alumni 2015
Sergii Drobot

107,91

Nataliia Malynovska

35,97

Sergii Drobot

11,15
Alumni 2016
Oleksandr Ublinskykh (MBA)

37,77

Borys Trofimov

500
Alumni 2017
Alumni 2018
Ksenia Alekankina

amount not disclosed

Oleksii and Maryna Romanko

amount not disclosed

David Menabdishvili

39
"Individually, we are one drop. Together, we are an ocean." – Ryunosuke Satoro
KSE is a leading academic institution positioned among the top Central-European & world-class schools of economics. We exist to build the intellectual foundation for a strong and innovative economy of Ukraine.