Ukrainian Global University Annual Conference: A straight talk about human capital development among students, co-founders, and partners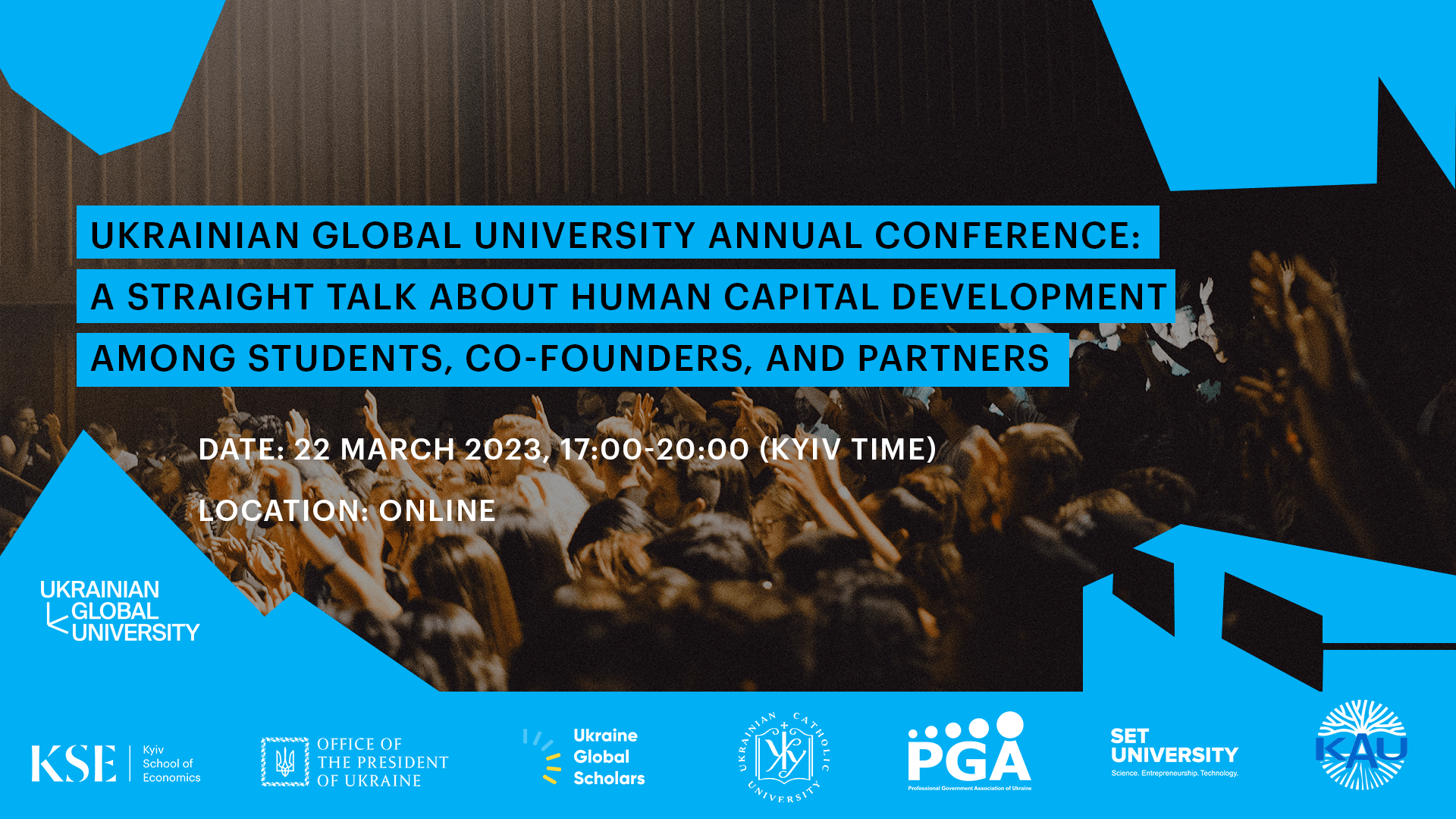 Anastasia, a Kharkiv resident, had to travel through eight Ukrainian cities before finding safety in Prague when the full-scale invasion began. At the same time, the student of the bombed-out V. N. Karazin Kharkiv National University applied for a program of support by world universities for Ukrainian students, saving her life and not giving up her dream of a quality education. 
Now, as part of her academic mobility, Anastasia is studying at the bachelor's program at New York University in Prague (Czech Republic) for free, volunteering and keeping in touch with Ukraine. 
On March 22, join the Ukrainian Global University Annual Conference broadcast from the Kyiv School of Economics to find out how this became possible: http://bit.ly/3ZUhuRh 
"I am very grateful to UGU for the opportunity to study abroad. First, it was an opportunity for me to return to normal student life, which I had never dreamed of after my university in Kharkiv was destroyed by enemy shelling. 
Secondly, it became an incredibly important life experience for me, which I can call life-changing without exaggeration. I'm already in my second semester of studying in Prague, and most of my research work at the university is related to Ukraine: how to protect people's rights during the war, how to build a post-war justice system, how to integrate people from the temporarily occupied territories into society. What used to seem immense, even impossible, has now turned into a goal. So I dream of graduating and returning to Ukraine to implement all these ideas and change people's lives for the better."
This became possible thanks to the Ukrainian Global University initiative, which in 2022 helped 52 Ukrainian students start free education at European and American universities. 
Such stories are inspiring, and we sincerely wish to continue them in the future!
The idea of establishing the Ukrainian Global University came about at the height of the large-scale Russian invasion, when Ukrainian schools and universities turned from centers of education and development into missile targets.
Ukrainian educational institutions and organizations – Kyiv School of Economics (KSE), Ukraine Global Scholars (UGS), Ukrainian Catholic University (UCU), Professional Government Association of Ukraine (PGA), SET University, Kyiv Academic University, endorsed by the Fund of the President of Ukraine for Support of Education, Science and Sports and by the Ministry of Education and Science of Ukraine – have come together to protect and provide access to the world's best universities for those young people seeking for the best education to rebuild Ukraine. 
We are proud that universities from all over the world have responded to our call for help, and we would like to pay special attention to them.
On March 22, we will gather at the Ukrainian Global University Annual Conference to discuss how foreign universities help incubate Ukrainian talent. How to expand access to quality education for Ukrainian students around the world? And how can Ukrainian youth who receive quality education abroad contribute to shaping Ukraine's post-war future?
To participate, please register here: http://bit.ly/3ZUhuRh.
AGENDA:
17:00
Opening
Moderator: Tymofiy Mylovanov, President of Kyiv School of Economics
Key-note address
• Oleksii Sobolev, Deputy Minister of Economy of Ukraine
• Peter Loewen, Director of the Munk School of Global Affairs & Public Policy, University of Toronto
17:20-18:00
Vivat Academia. How foreign universities help to incubate Ukrainian talent?
The panel is about insights and suggestions on the role of best universities in the Free World in fostering the talent and potential of the Ukrainian youth in their pursuit of education and professional development.
The panelists, who are experts and practitioners in various fields of education, will share their insights and experiences on how foreign universities can provide opportunities for Ukrainian students to acquire quality education, gain international exposure, and develop their potential through various programs and initiatives.
Moderator: Tymofii Brik, Rector of Kyiv School of Economics
• Uliana Avtonomova, Secretary General of the Fund of the President of Ukraine for Support of Education, Science and Sports
• Olga Monacell, Professor, Program Director of MA in Strategic Communication & Leadership, Ashland University
• Anna Nagurney, Eugene M. Isenberg Chair in Integrative Studies, Director of Virtual Center for Supernetworks, UMass Amherst
• Sienna Nordquist, UGU volunteer, PhD Student in Social and Political Science at Bocconi University
• Josh Taylor, Associate Vice Chancellor for Global Programs and Mobility Services, New York University
18:00-18:40
Vivant membra quaelibet. How Ukrainian talents view future Ukraine and contribute to shaping it?
The participants of this panel, beneficiaries of the UGU who started their studies already, will talk about their views on how we should work together to spread awareness about the ongoing war in Ukraine and increase access to quality education for Ukrainian students worldwide, the importance of the networks establishment in the modern world, and means to support the post-victory restoration and development of Ukraine.
Moderator: Dmytro Iarovyi, lecturer at Kyiv School of Economics and Vytautas Magnus University, non-resident fellow at the Institute for European, Russian and Eurasian Studies, George Washnigton University
• Viktoriia Pohliad, Paris 1 Pantheon-Sorbonne University, France
• Andrii Shovkovyi, University of South Carolina
• Marko Tsymbaliuk, Gettysburg College, US
• Anastasiya Yushchenko, City, University of London, UK
• Maryna Kurylina, IE Business School, Spain
18:40-19:20
Vivat et Respublica. How to secure the future for Ukrainian youth and advance their role in future Ukraine?
The panel will revolve around the opportunities available to Ukrainian youth who have completed their education abroad, and examine what the Ukrainian state and businesses expect from these graduates and what they can bring back to the country. It is important to delve into how to create an environment that gives graduates opportunities for action.
Moderator: Liubov Poshyvailo, researcher at Forschungszentrum Jülich GmbH, member of the Board at Professional Government Association
Speakers:
• Olga Budnyk, Advisor to the President of Ukraine on the Fund of the President of Ukraine for Support of Education, Science and Sports
• Roman Bondar, Country Chair Korn Ferry
• Julia Lemesh, President of Ukrainian Global Scholars
• Kostiantyn Lisnychyi, Head of the Board of PGA
• Daryna Marchak, First Deputy Minister of Social Policy of Ukraine
19:20
Closing remarks