The total amount of damage caused to the infrastructure of Ukraine due to the war reaches $151.2 billion — estimate as of September 1, 2023
As of September 1, 2023, the total documented direct damage to Ukraine's infrastructure caused by a full-scale Russian invasion has reached $151.2 billion (at replacement cost). The ongoing war continues to result in the destruction of residential buildings, educational institutions, and infrastructure, leading to an increase in the overall damage. 
Compared to June 2023, damages have increased by over $700 million, from $150.5 billion to $151.2 billion.
As of the beginning of autumn 2023, the largest share of damages remains within the housing sector, amounting to $55.9 billion. In total, 167,200 housing units have been destroyed or damaged as a result of hostilities, comprising 147,800 private houses, 19.1 thousand apartment buildings, and an additional 0.35 thousand dormitories. The regions most severely affected by the destruction of housing stock include Donetsk, Kyiv, Luhansk, Kharkiv, Mykolaiv, Chernihiv, Kherson, and Zaporizhia.
In second and third place in terms of damages are the infrastructure and industry sectors, with $36.6 billion and $11.4 billion in damages, respectively. Since the start of hostilities in Ukraine, 18 airports, civil airfields, at least 344 bridges and overpasses, and over 25 thousand kilometers of state and local highways and communal roads have been damaged. Damages in the industry sector encompass at least 426 large and medium-sized private enterprises and state-owned companies that have been damaged or destroyed due to the war.
The sphere of education, according to experts from the KSE Institute's "Russia will pay" project, has been significantly affected. As of the beginning of September 2023, the war has caused $10.1 billion in damages in this area, marking an increase of over $400 million compared to June 2023. The total number of damaged and destroyed educational facilities has exceeded 3.5 thousand, including more than 1.7 thousand secondary education institutions, over a thousand preschools, and 586 higher education institutions. According to regional military administrations, the highest number of destroyed and damaged educational institutions is found in the Donetsk, Kharkiv, Kherson, Mykolaiv, Zaporizhia, and Kyiv regions.
Additionally, direct losses in the healthcare sector continue to escalate, estimated at $2.9 billion as of September 1, 2023. In total, the war has led to the destruction or damage of 1,223 medical facilities, including 384 hospitals and 352 dispensaries.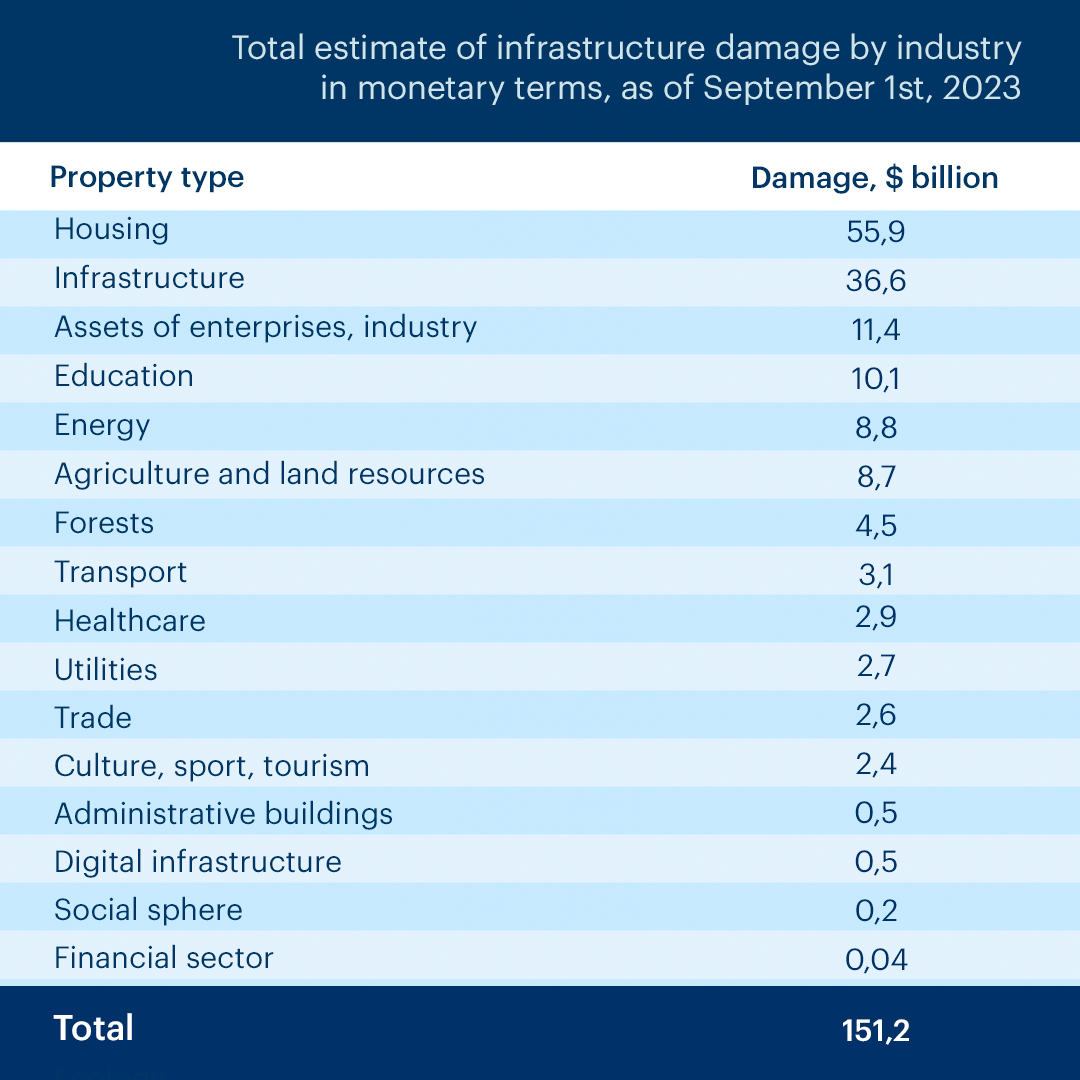 The project team also includes volunteers from the Centre for Economic Strategy, Dragon Capital, the Anti-Corruption Headquarters, the Institute of Analysis and Advocacy, Transparency International Ukraine, Prozorro.Sale, Prozorro, Ukrainian Council of Shopping Centres, CoST Ukraine, Vkursi Agro, TVIS Ukraine, Retail Association of Ukraine, Culver Aviation, Centre for Innovations Development.
Detailed data on destruction and damages caused to Ukraine's infrastructure were collected by the Kyiv School of Economics (KSE Institute) as part of the project to develop independent methodologies for the analytical assessment of infrastructure damage and economic losses caused by Russia's aggression, implemented by the KSE Institute.