The First Issue of the Russian Sanctions Digest released by KSE Institute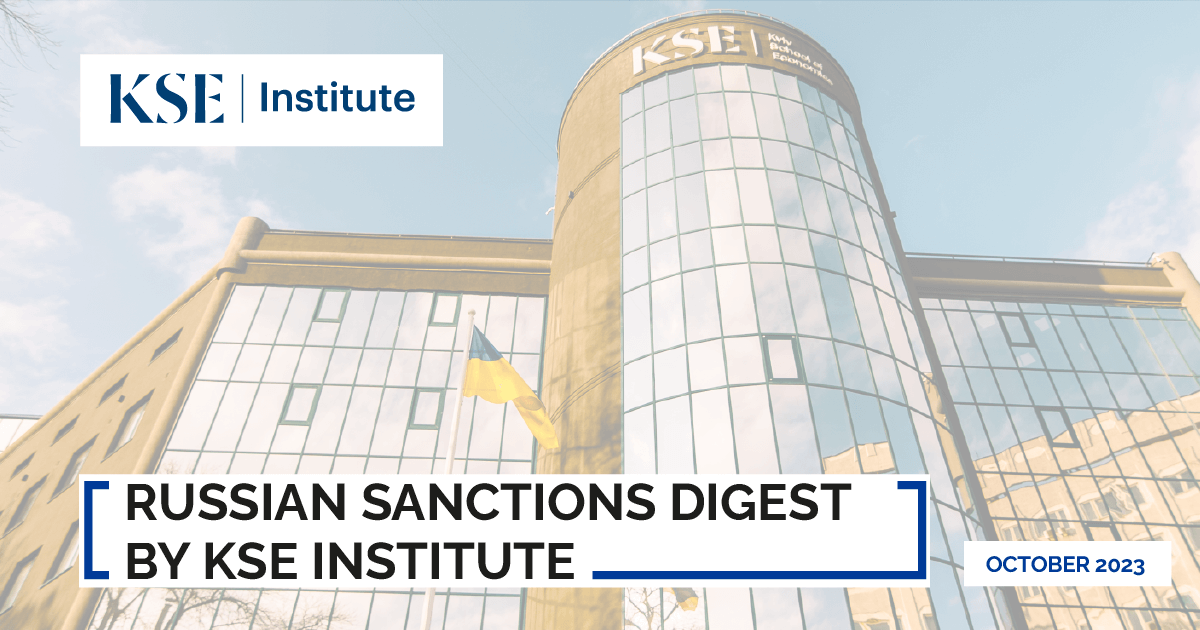 KSE Institute has presented the first issue of the Russian Sanctions Digest for October 2023. The digest covers the macroeconomic situation in Russia, oil exports, the use of foreign components in Russian weapons, the presence of foreign companies in the Russian market (termed "SelfSanctions"), and the further tightening of sanctions.
Macroeconomic situation. The Russian economy is recovering after the initial shock caused by the war and sanctions. Russia's real GDP is projected to increase by 1.6-2.2% in 2023, іn 2024, growth is expected to reach 1-1.5%. The key reason is the growth of oil revenues. In September 2023, Russian oil export earnings reached $18.8 bn, the highest since July 2022. It allowed Russia to reduce its budget deficit in line with the original target. Thus, the Kremlin will be able to increase military spending – by 68% in 2024.
Russian Oil tracker. Total Russian oil exports declined by around 900 kb/d below their pre-invasion level in August 2023, but revenues surged. It coincided with Russia's reduced dependence on Western maritime services and using shadow fleet tankers to circumvent sanctions. Russian oil surpassed the respective price caps in August 2023, pointing to lax policy enforcement by the EU/G7. But with current oil price caps and stricter sanctions enforcement, Russian oil revenues would decrease to $169 bn in 2023 and $177 bn in 2024 from $218 bn in 2022. 
Foreign components in weapons. Russia adopts intricate strategies to circumvent sanctions, utilizing illegal networks, fleeting shell companies, and deceptive transit operations to import foreign components for weapons production. Most electronics go to Russia through China and Hong Kong. Components from companies like Analog Devices, Texas Instruments, Microchip Technology, Intel, STMicroelectronics, and AMD have been identified in Russian weaponry. In general, 1,057 foreign components were identified in Russian weapons.
SelfSanctions/LeaveRussia. 288 companies with foreign capital (8.1% of the total entries) have completely ceased operations in Russia.  1221 (34.5%) foreign businesses employing 362.3K people, generating annual revenues of $71.9 bn, and owning assets of $113.5 bn have curtailed operations in Russia or announced their intention to leave the country. 1478 (41.8%) foreign companies still have no plans to leave Russia. 548 (15.5%) businesses have reduced their current operations, suspended new investments, and continue to wait.
Tightening of sanctions. We have identified key areas for strengthening sanctions in the autumn of 2023. First – restrictions on the supply of Western military technology and components. Second – to strengthen energy sanctions with better price cap enforcement, combatting Russia's shadow fleet, and sanctioning LNG exports. Third – to widen sanctions on individuals, impose financial sector sanctions, and encourage foreign banks' exit from the Russian market. Fourth – sanctions against propagandists, sanctions against relatives and proxies of previously sanctioned persons. Fifth – protection sanctions from pro-Russian influence, and confiscation of Russian central bank and oligarch assets.
These are the key findings that cover only a part of the digest. To subscribe to new, full issues of KSE Institute digests, please fill out the special form here: https://bit.ly/472Vu9Z
The Digest was prepared with the support of the European Union and includes the results of research conducted by the Kyiv School of Economics, which was made possible by the support of the UK Government (UK Aid), the United States Agency for International Development (USAID), the International Renaissance Foundation and the World Bank.