KSE Institute & Yermak-McFaul Sanctions Group: 174 Foreign Components Found in Russian Military Drones, Revealing Gaps in Sanctions Regime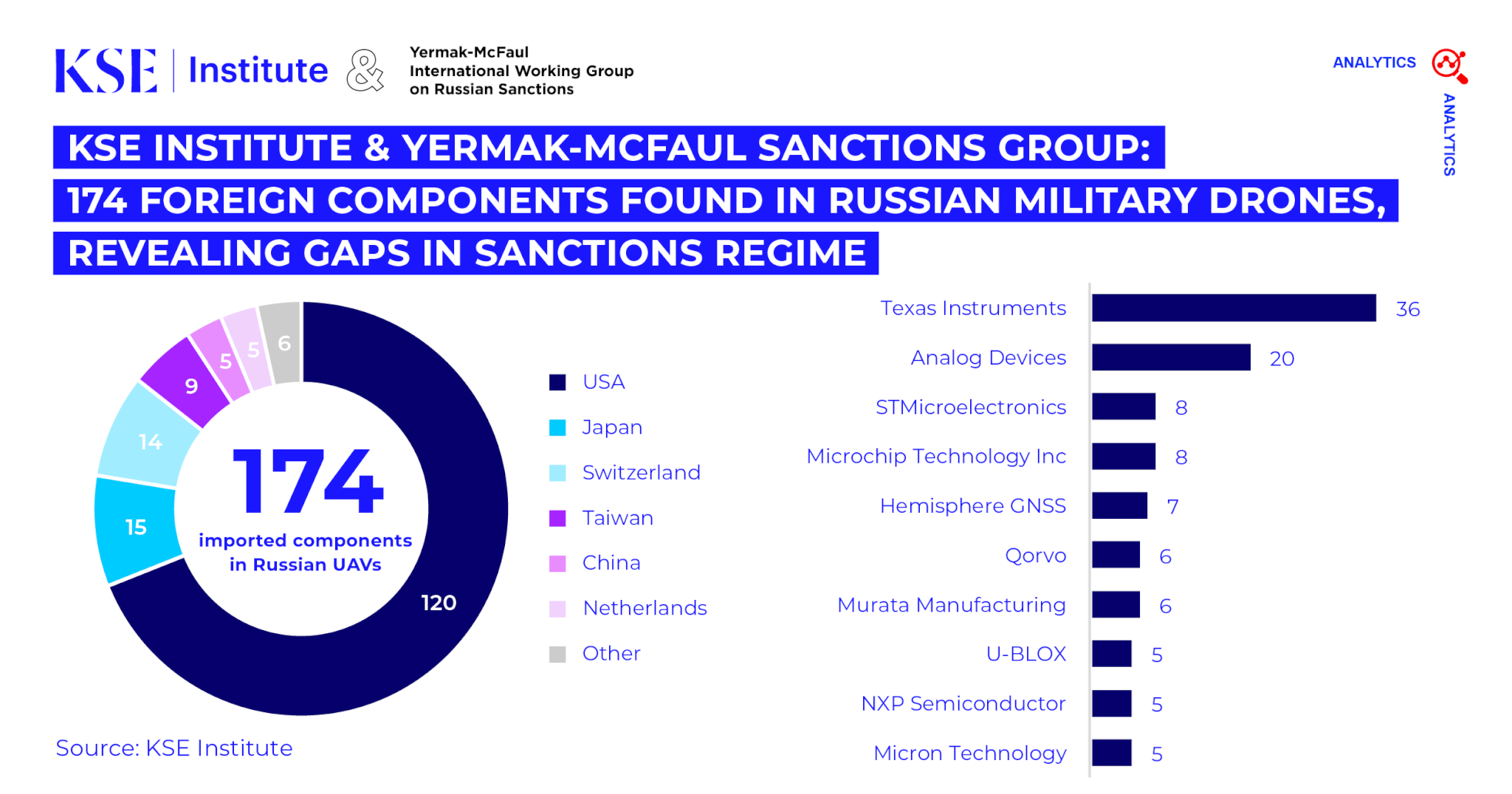 KSE Institute together with the Yermak-McFaul International Working Group on Russian Sanctions, is releasing a joint study, "Foreign Components in Russian Military Drones." The study examines the critical role of UAVs in Russia's ongoing invasion of Ukraine and the significant reliance on foreign components, particularly from countries in the sanctions coalition.
Russia's use of UAVs such as Shahed-136/131, Lancet, and Orlan-10 has been instrumental in reconnaissance, offensive operations, and kamikaze missions. These UAVs have targeted Ukrainian civilians and infrastructure, eroding morale and revealing air defense placements.
The study analyzed 174 foreign components in these UAVs and found that 91% of them were manufactured by companies from sanctions coalition countries. These components include essential microelectronics such as processors, voltage regulators, and GLONASS-enabled modules for navigation. 
Despite sanctions, trade volumes of these critical components have increased by 19% in the first five months of 2023, amounting to $7.2 billion, compared to $6.1 billion in the same period in 2022. The total trade volume for 2022 was $15.8 billion. The top producers for the first five months of 2023 were Texas Instruments, Analog Devices, STMicroelectronics, Microchip Technology Inc. та Hemisphere GNSS.
China, Turkey, and the UAE are notable suppliers, with China contributing 67% of these components. Russia employs complex tactics to evade sanctions, including illegal networks, one-day shell companies, and fake transit operations. This evasion is further complicated by offshore production and insufficient compliance procedures.
Policy Recommendations:
1. Alignment of Sanctions Across the Sanctions Coalition: Adopt a centralized approach to lists of sanctioned entities, individuals and dual-use goods and improve information exchange among coalition nations.
2. Broader Export Controls: Expand sanctioned product categories based on 6-digit Harmonized System (HS) codes and strengthen control over dual-use goods.
3. Improve Company Compliance: Enhance collaboration between component producers and authorities, introduce clear and obligatory guidance for internal compliance.
4. Increase Responsibility: Governments should investigate well-known companies to demonstrate their commitment to enforcing sanctions.
5. Using Existing Institutions and Frameworks More Effectively: Leverage the Anti-Money Laundering (AML) framework and finance sector regulations to trace opaque ownership structures and dynamic actor changes involved in circumventing sanctions.
By adopting these recommendations, the international community can significantly improve the export controls regime, prevent sanctions violations, and curb Russia's ability to continue its war of aggression in Ukraine.
The full version of the study is available here.