Bachelor's Programs in Economics and IT
More Information
Less Information
IT and Business Analytics
Economics and Big Data / Business Economics
English as the language of instruction
The study process at these three bachelor's programs is in English. However, we don't require from applicants additional certificates or external independent evaluation in English. In the first year there's intensive study of English so that every student could achieve an appropriate level, at this point the teaching language is Ukrainian. The study process in English prepares students for further work in international companies.
We have scholars with Western education and school partners who occupy leading positions in IT, economics and business teaching at KSE. They know modern technologies, present the material in an interesting way, additionally explain difficult elements and aim to pass the knowledge to students. All of our teachers have a recognized reputation and are in active scientific search, constantly updating their knowledge.
We're regularly studying labour market needs while our partner companies are directly involved in curriculum formation.  Since the second year, students take part in 2-month summer training in leading companies (not only partners). Students get acquainted with the corporate environment in actual conditions and get their first work experience. It allows them to apply their knowledge, and also provides quick adaptation and employment after graduation. At the end of the study students work on their projects (diploma work) which can become a start-up. 
We're studying offline in a new building (10 minutes from Beresteiska and Shuliavska metro stations) with modern classrooms, coworking and other opportunities. All the workers are fully vaccinated, students are also vaccinating. The study year is divided into 5 mini-terms 2 months each, with examinations and holidays at the end. This allows students to fully concentrate on the material. Students are organized in compact groups (13-25 people) and re-organized by the knowledge level after each examination session. We implement an individual approach, looking for the best variants to organize classes and providing additional if needed. 
We believe that the student and his needs should be put at the centre of the higher education system. There's no place for arrogance and pressure at KSE. We provide honest and fair assessment and expel for cheating. Kyiv School of Economics creates a community of conscious, active people for whom personal and professional development is important along with the values of cooperation, social responsibility and solidarity. We teach responsible leadership so that our graduates will create local communities and further become change makers in the country.
Business partners about us
Undergraduate Education Program Manager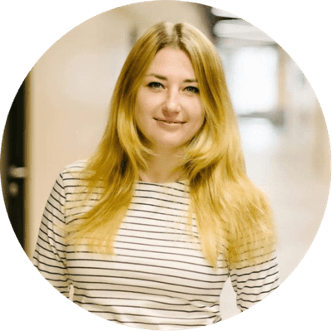 Mariya Reznik
Contacts of the Student Recruitment Department
📞 +38(067)434-71-63