More Information
Less Information
The ideological and value inspiration of the program is Oksana Syroyid – Vice President of the Kyiv School of Economics. As she obtained LL.M. (Master of Law) from the University of Ottawa, Oksana set a goal of changing the perception of law and justice in Ukraine. Upon her return from Canada, Oksana started a teaching program for judges, while working as a project manager at the OSCE Project Coordinator's Office in Ukraine.
At the same time, Oksana's true aim remained to reform legal education and to create the best law school – in terms of substance, teaching methods, academic integrity, and level of respect towards students. To this end, we are opening the Bachelor of Laws program at KSE.
Our common vision is to prepare lawyers who will be the pride of any legal sphere and for whom the best law firms will compete.
Partnership with Law Firms
The Bachelor of Laws program is a product of cooperation between KSE and leading Ukrainian and international law firms. The future employers of our graduates, together with KSE, have conceptualised the curriculum and inscribed in it exactly what they expect from their future colleagues.
As a result, graduates of the program have a balanced set of professional, hard and soft skills that they need in a highly competitive legal services market.
KSE is also setting up a Career Development Office ("CDO") offering services to all law students in pursuit of their dream job. The CDO supports the students and advises them on CV and resume composition, writing a cover letter, preparing for a job interview and other employment matters. 
Professional Faculty Officers
Graduates of the program will be ready to work in a dynamic world where the path to success requires flexibility, initiative, as well as innovative, adaptive and analytical thinking.
These skills are only developed by competent professors who can experiment with teaching methods and constantly strengthen their techniques.
Such professionals holding degrees from respectable universities, having educational experience from abroad, legal experience in the respective legal fields, will undergo the selection process and commit to working with KSE law students.
Their unique approach and modern teaching methodologies help understand complex legal doctrines and principles through their practical application during university moot courts, debate sessions, case studies, and also during the work at the legal clinic.
Financial Support for Talented Students
Thanks to KSE partners (private law firms that invest in quality education and their future employees), students who demonstrate a high level of knowledge during the selection process and their studies may receive financial support. Discounts on tuition are also given to the winners of the KSE Law Academic Competition (follow the announcements on the website).
The study process is offline in a newly built campus (10 minutes away from Beresteiska and Shuliavska subway stations) with modern classrooms, coworking spaces, study, and recreation areas. The academic year is divided into five terms (two months each) which end with an examination period. The studying is intensive, but the courses are evenly distributed over one term so that students focus their attention on not more than four courses.
Some subjects our students choose independently – we offer mandatory and elective courses. In particular, KSE is the first university in Ukraine to provide free and unrestricted access to Coursera for its students. This makes it possible to obtain certificates from the world's top universities by taking additional courses, including, for instance, European Business Law, Human Rights for Open Societies, International Humanitarian Law in Theory and Practice.
Law Program Manager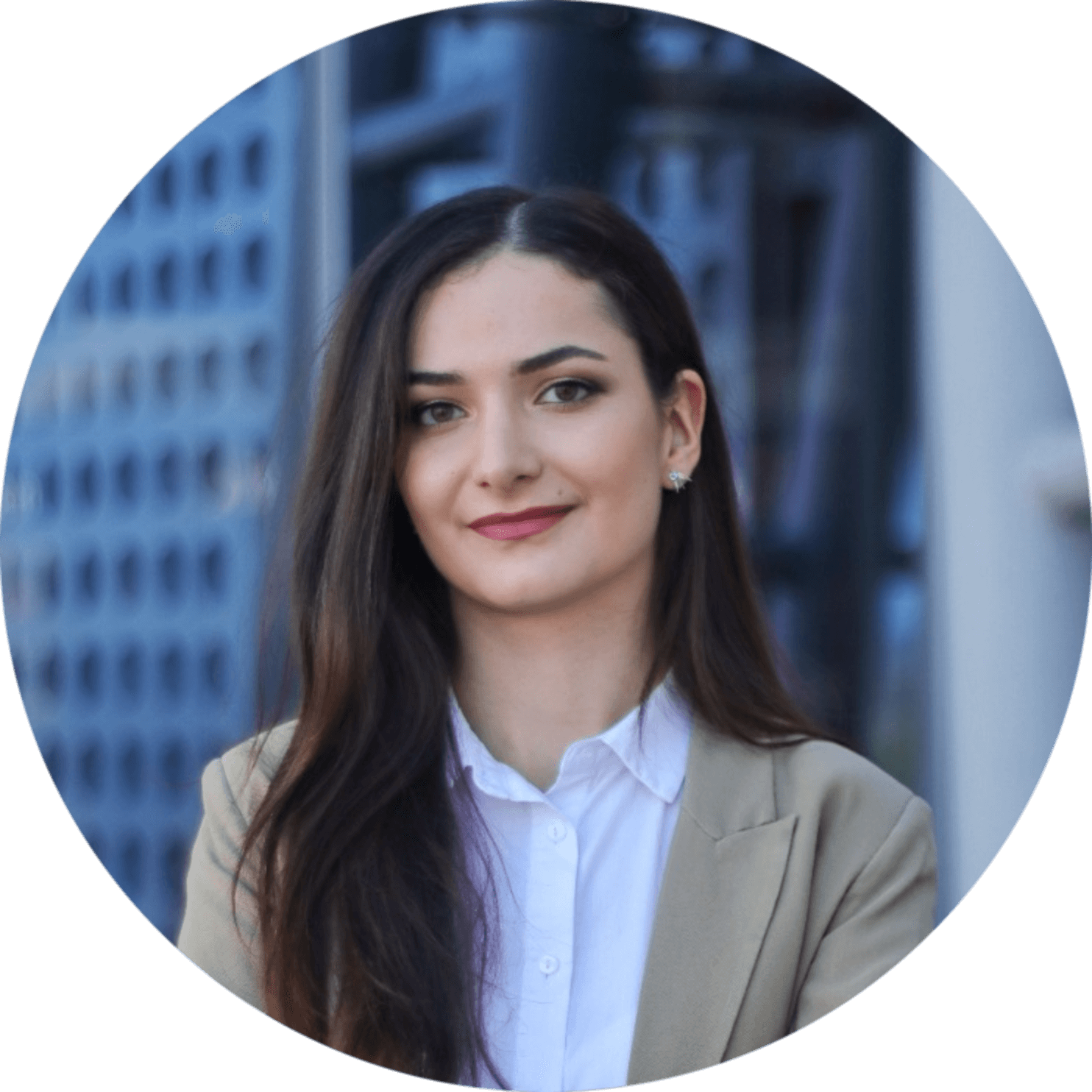 Tata Marharian
Contacts of the Student Recruitment Department
📞 +38(067)434-71-63