Named Scholarship Program
Background
Kyiv School of Economics plays the prominent role in educating tomorrow's leading economists and managers.
We are one of the best economic schools in Central Eastern Europe; the alma mater of reformers and reputable analysts; the agenda-setter for the economics discourse in Ukraine; and the leader in economic policy advice in Ukraine. Our goal is to enhance equal access to higher education for Ukrainian citizens, and to encourage talented Ukrainians to invest their time and effort in obtaining high quality education.
We are grateful to our Individual Donors and Strategic Partners who establish their Named Scholarship at KSE and provide institutional support to the School, thus making it possible for KSE students to study for free.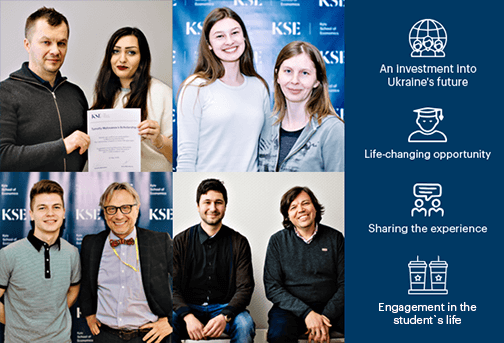 The Named Scholarship program is not only about the material support. It is also about the opportunity for the Donor and the Supported Student to get to know each other personally and share their experiences, ideas, and aspirations. Donors take part in mentorship program and maintain relationships with Students throughout the academic year. Another opportunity is the internship or employment of the Supported Student at the Donor's company upon graduation.
Named Scholarships 2018
In the academic year of 2018/19, thanks to the Donor support, our goal is to deliver high-quality education for free to 50 students of KSE Master programs.
Which Named Scholarships will be available in 2018/19 academic year?
There are three types of named scholarships: Corporate Named Scholarships, Individual Named Scholarships, and KSE Alumni Named Scholarships.
Corporate Named Scholarships
The First Ukrainian International Bank (FUIB) is the strategic partner of Kyiv School of Economics. In 2018/19 academic year, FUIB graciously supports the Talents From Regions program at KSE.
The Talents From Regions program provides merit-based scholarships for students of a regional origin who study in the two-year MA Program in Economic Analysis. It covers the full tuition fee, as well as living expenses in Kyiv (hostel accommodation and monthly stipend of 1500 UAH).
FUIB is the official corporate partner of the Talents From Regions program, providing scholarships for 10 regional students out of 20.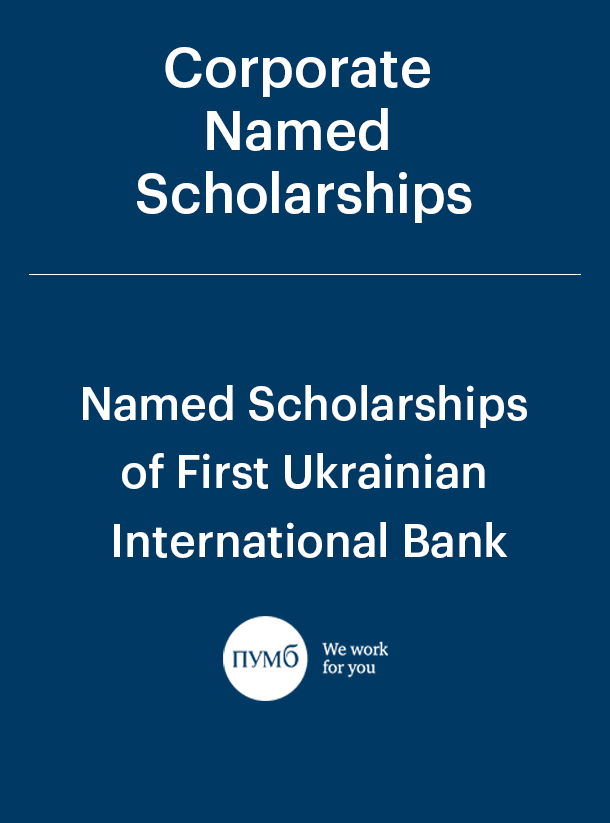 Individual Named Scholarships
We are sincerely grateful to Individual Donors that provide personal support to talented youth. In 2018/19 study year, 20 Named Scholarships will be available for students of MA programs.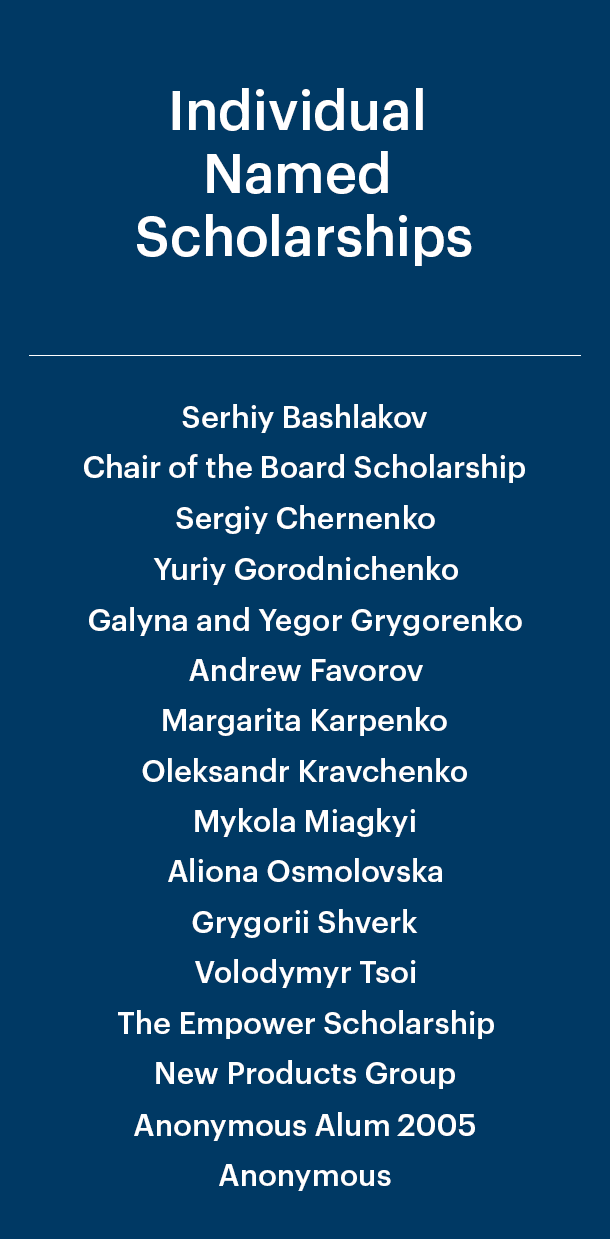 KSE Alumni Named Scholarships
In winter 2018, Kyiv School of Economics has carried out a charitable campaign among KSE alumni. More information about the campaign can be found by the link.
As the result, KSE alumni of different graduation years have collectively established 10 Named Scholarship which will be granted to KSE students of 2018/19 study year.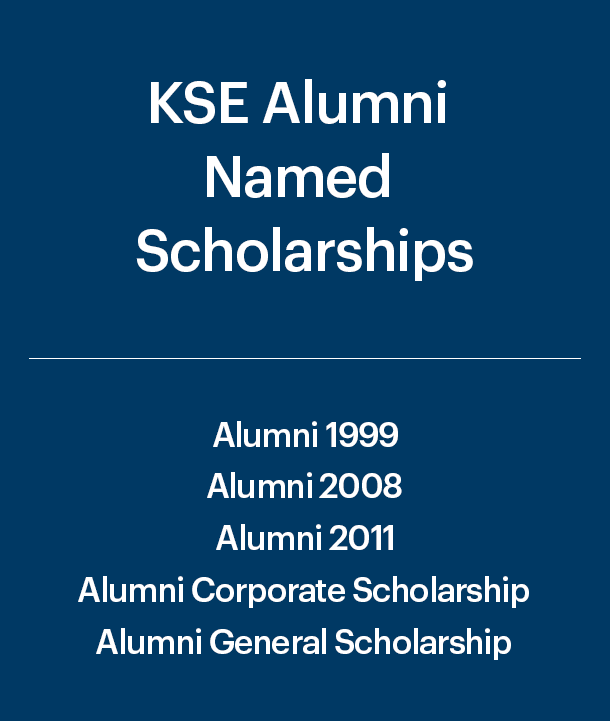 The lists above will be updated as the new Donors will be joining the Named Scholarship program.
Who is eligible for the Named Scholarship program?
The Students will automatically* enter the list of Named Scholarship candidates, as soon as they successfully pass the entrance exam for one of the KSE Master Programs. *
There is no need in a separate application.
How does the selection process work?
The Named Scholarships open in 2018/19 study year will be allocated by the Financial Aid Office, based on availability and criteria set forth by the donors.
The matching process was started in August 2018.
Named Scholarships 2017
In 2017/2018 Academic Year, 11 students of Master Program in Economic Analysis received Named Scholarship support. They were supported by:

You may find publications about Named Scholarship Program 2017/18 by searching the hashtag #KSEscholarship on Facebook.
How can I support the School?
To find out more about KSE support options, please click the button below