Ambassadors of Kyiv School of Economics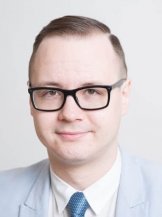 Mykhailo Kameniev
Public Policy and Governance
Research interests: activities of the law enforcement authorities, freedom of expression and freedom of assembly, CCTV functioning, state policy in transition period 
Activities: head of the peacebuilding working group of the Peacebuilding Directorate of the The Ministry of Reintegration of Temporarily Occupied Territories of Ukraine, "What? Where? When" team member, football player, Dzerkalo Tyzhnia column writer (ZN.ua), "Young Paranoid" newspaper editor-in-chief, previously Foundation of Regional Initiatives activist
"What do I enjoy"?: "I like challenging myself with intellectually difficult tasks. Gardening is another hobby of mine. Additionally, I read classical (and, well, sometimes not so classical) literature. I also love spending time with my family."
Ask me: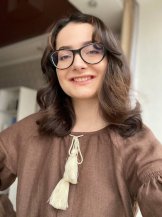 Tata Marharian
Public Policy and Governance
Kyiv
Research interests: public policy in armed conflicts, International Humanitarian Law, Public International Law & related state policies
Activities: Philip C. Jessup International Law Moot Court Competition, Ukrainian Red Cross Society volunteering, tactical combat casualty care training 
"What do I enjoy?": "As of now, my true passion is Brazilian Jiu-Jitsu. There is nothing more inspiring, fulfilling, and stress-relieving than a good 2-3 hours of intensive training on the tatami! Further, I enjoy listening to Bill Burr's Monday Morning Podcast and music (from Chopin to Led Zeppelin and Mitski – a wide range of artists and genres). I am also fond of the works of "The School of Life", American stand-up comedy, Studio Ghibli films, and books written by Jordan Peterson."
Ask me: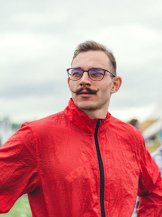 Nazar Reikin
Public Policy and Governance
Kyiv
Research interests: public politics analysis, philosophy of politics, behavioral economics
Activities: Master's of Philosophy at NaUKMA, "Millennial Ranting" podcast, "ReagansFactory", Plast National Scout Organization of Ukraine
"What do I enjoy?": "I am keen on problem solving, process optimization, goal setting, and negotiating. Further, I am fond of philosophy of mind and language, to the extent that I even opted for my second Master's Degree in Philosophy at the National University of "Kyiv-Mohyla Academy". Previously, I had the opportunity to study Drama in Denmark. Among my favourite plays are "Coriolanus" by William Shakespeare and "Kassandra" by Lesia Ukrayinka. This year, I am in an active mode of preparation for triathlon and long-distance cycling to Turkey. Also, I love cheese pies. And cherry pies too."
Ask me: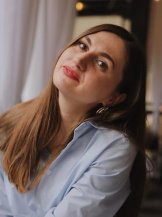 Olga Zadorozhna
Public Policy and Governance
Kyiv
Research interests: development economics, innovations, effective governing, strategic planning and policy implementation, international relations & conflict resolution
Activities: state expert at the Ministry of Digital Transformation of Ukraine, "Kozhen Mozhe" International Charitable Foundation volunteer 
"What do I enjoy?": "My favourite thing to do is to read. I enjoy different genres, among which are psychology, history books, novels, and memoirs of political activists. I am also enthusiastic to figure out the nature of decision-making that may eventually impact many people and the history of humanity overall. Most importantly, I often find myself wondering what is the decisive factor of success or downfall of those decisions made? I love my job since I get the chance to see for myself how one of the most complex systems works in practice, meaning the state. I like finding out the reasons of this system not functioning in the way it should and fixing them. Another passion of mine is to communicate with talented and initiative people, which is exactly why I opted for working at the Ministry of Digital Transformation and studying at KSE."
Ask me: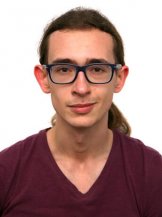 Andrii Тymchuk
Economic Analysis
Research interests: education economics and health economics, inequality of profits and wealth in national economics 
Activities: I assist in the department of business education in KSE and the research center of Trade which is under KSE Research Institute. I write reviews on popular scientific economic literature on Facebook. Participant of Nike Run Club, I also regularly participate in marathons on long distances in Ukraine.
Even though I've heard that studying in KSE might be hard, it happened to be even harder. I've underestimated it: the amount of time it takes to complete homework from 4-5 courses. Nevertheless, the scope and comprehensiveness of this knowledge are one of their greatest advantages, as after learning them hard it is possible to be fully prepared for your finals. 
An economics study in KSE fundamentally differs from the study in other Ukrainian universities. Mathematical principles and models are the basis of educational material from any article of the economic program. Such an approach allows one to get applicable knowledge, and also look at the economic problems under a fundamentally new point of view, without superfluous demagogy.
Ask me:
@AndreSeneca
+380951020849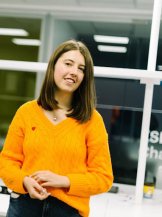 Inna Omelchenko
Economic Analysis
Research interests: Gender inequality, data analysis, market structure research. 
Activities: For 1.5 years in KSE I took part in the following activities: VOX Ukraine, KSE Journalism Center, preparatory courses for bachelors, KSE Data Science Club, Google Developer Student Club, group head. Outside of KSE, I work as an analyst at the KSE Institute. My hobbies include dancing and traveling.
KSE is an amazingly unique world that unleashes your potential. The most interesting thing is to study in a strong and intelligent environment, which becomes an example as well as an inspiration for self-development. The most difficult thing is not to lose motivation or burn out. Studying here is interesting, but sometimes difficult and intense. Time after time it takes about 12 hours to fully understand only one piece of homework. It requires endurance, patience, and good time management, otherwise no way. At the same time, KSE is about a great community. Here you will find friends whom it will be interesting to go through life with and, in particular, a little easier to learn. KSE teaches cooperation, group work, arouses interest in various scientific researches, and in general, incredibly expands horizons.
Ask me:
@InnaOmelchenko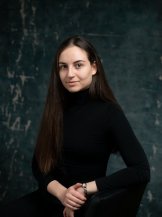 Maria Atamanyuk
Business and Financial Economics
Research interests: financial markets and financial instruments, Ukrainian agricultural market, philosophy.
Activities: winner of the CFA Ethics Challenge 2021, I work as a project manager of the British-Ukrainian Chamber of Commerce.
The decision to join KSE was the best in the last few years of my life. The most difficult thing in learning is to stably maintain a constant rhythm of workload and pressure of daily deadlines, as well as exams and group projects. Each teacher is always available for advice and welcomes any additional questions on the material. The KSE community is very inspiring to develop and discover new opportunities. The university creates all conditions for comfortable study.
Ask me: