How to apply to MBAI program: timeline and documents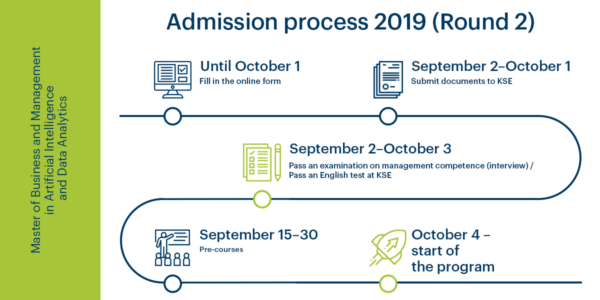 To fill in the online form until October 1.
September 2 – October 1 to submit a written application and those documents that were not submitted electronically while completing the online form, namely:
– ID document and its copy
– a military identity card (for those who are liable for military duty) and its copy
– a diploma with an appendix and their copies
– four colour photos in the size of 3 x 4 cm
– written motivational essay with justification of studying goals (in English)
– resume
September 2 – October 3 to pass an interview on management subject.
September 2 – October 3 to pass an English test at KSE (in case of valid certificate of TOEFL, International English Language Testing System or Cambridge English Language Assessment availability (not lower than B1 level according to the European Language Education Recommendations or equivalent level) the entrance examination in English is not required).
Applicants will receive recommendations for enrollment by October 4.