BE How to apply: timeline and documents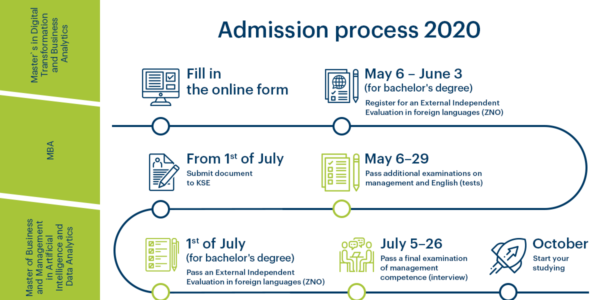 Admission process:
      

To fill in the

online form
May 7 – June 3 to register for an External Independent Evaluation in a foreign language (ZNO) at the Kyiv School of Economics (for Bachelor`s degree)
July 1 to pass an External Independent Evaluation in a foreign language.

  

If an applicant has the degree in a different field than management, additional professional exam on management and English test should be passed during May 6-29

period. The examination takes place in the form of a multiple choice test.

Starting from July 1 to submit a written application and those documents that were not submitted electronically while completing the on-line form, namely:

ID document and its copy

a military identity card (for those who are liable for military duty) and its copy

a diploma with an appendix and their copies

four colour photos in the size of 3 x 4 cm

written motivational essay with justification of studying goals (in English)

resume

two recommendation letters (or information about persons who can provide them at the request of the University)

July 5-26

 to pass a final examination on management competence (in the form of interview).
Applicants will receive recommendations for enrollment by August 10.
Start of the program – October.